Jan 1, '20 6:52 PM
We think it so common now – make a photo, two or three clicks later it's shared around the world. There's an entire generation who doesn't even understand the idea of having to wait to see your own photos, let alone having to wait to see news photos from around the world.
But 85 years ago today, the Associated Press changed the world – the first Wirephoto made its way around the country and visual storytelling became an integral part of our news consumption.
Sixty years later, I was racing around New England with a trunk full of chemicals, stainless steel tanks, film reels and a … $35,000? … Leafax IIId digital transmitter, still needing a place to process film and tap into a phone line.
We've come a long way and it has been a very good journey.
Oct 2, '19 9:00 AM
The designed Luigi Colani died recently. While that New York Times obit deals with many things, it doesn't do justice to the work he did with Canon in the 1980s – he is credited with the design of the T90, the first truly modern SLR camera.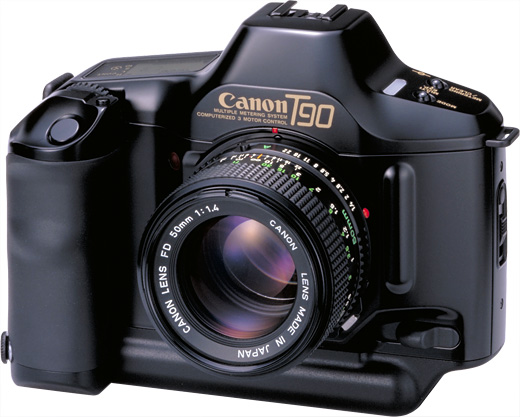 Look at that camera – introduced in 1986, almost every DSLR of today owes a debt to its purposeful, organic and humanist design. That was the camera that truly moved manufacturers away from the dedicated dials and knobs and started to take full advantage of microprocessors.
In the mid-1980s, that was one of the cameras we all lusted after. A beautiful piece of kit that was truly revolutionary.
Over at The Online Photographer, Adam Richardson has a nice tribute to Colani.
Sep 20, '19 2:25 PM
After being down for a month (long story and, while I gravitate towards long stories, I really don't want to talk about this one), Visual Journalism is back up and running.
Mostly.
We did lose all of the Category assignments for the last 12 years worth of posts. Hoping we can recover them, but I think that may be a bridge too far at this point.
New posts coming soon, it's nice to have this corner of the web back to myself again.
Apr 19, '18 8:27 PM
My darkroom days are, thankfully, in the past. I was never enamored with the process of photography, it was the message and meaning of an image I fell in love with. The ability to bring someone somewhere, to let them bear witness.
That said, I do appreciate the work of masters in the craft and the Cibachrome prints of Christopher Burkett are enchanting. That his days in the darkroom are numbered is, truly, saddening.