Jodi Bieber Wins World Press Photo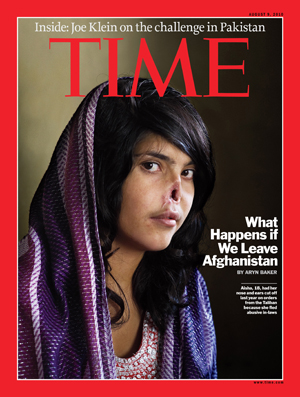 Jodi Bieber has won the 2010 World Press Photo award for her portrait of an Afghan woman who was attacked by her husband and brother-in-law after she fled their violence. The image ran on the cover of Time Magazine and raised a lot of questions.
From the prize announcement:
The international jury of the 54th annual World Press Photo Contest has selected a picture by Jodi Bieber from South Africa as the World Press Photo of the Year 2010.

The portrait of Bibi Aisha was also awarded First prize in the category Portraits Singles in this year's contest. It was shot for Time and was featured on the cover of the 1 August issue of the magazine.

Her winning picture shows Bibi Aisha, an 18-year-old woman from Oruzgan province in Afghanistan, who fled back to her family home from her husband's house, complaining of violent treatment. The Taliban arrived one night, demanding Bibi be handed over to face justice. After a Taliban commander pronounced his verdict, Bibi's brother-in-law held her down and her husband sliced off her ears and then cut off her nose. Bibi was abandoned, but later rescued by aid workers and the American military. After time in a women's refuge in Kabul, she was taken to America, where she received counseling and reconstructive surgery. Bibi Aisha now lives in the US.

Jodi Bieber has previously won eight World Press Photo awards and is only the second South African photographer to win the highest honor in the contest. She is a former participant of the World Press Photo Joop Swart Masterclass where she returned as a master in 2010. Bieber is represented by Institute for Artist Management and Goodman Gallery.

The conclusion of the jury

Jury chair David Burnett said: 'This could become one of those pictures – and we have maybe just ten in our lifetime – where if somebody says "you know, that picture of a girl…", you know exactly which one they're talking about.'

Juror Ruth Eichhorn commented: 'It's an incredibly strong image. It sends out an enormously powerful message to the world, about the 50% of the population that are women, so many of whom still live in miserable conditions, suffering violence. It is strong because the woman looks so dignified, iconic.'

Juror Vince Aletti said: 'It's a terrific picture, a different picture, a frightening picture. It's so much about not just this particular woman, but the state of women in the world.'

Juror Aidan Sullivan said: 'Part of what the World Press Photo contest does is to take pictures to a wider audience, an audience that is going to ask why? And this photo makes people ask "What on earth…?" "What's going on…?" "What has happened…?" For me, this was the picture that asked the most important questions.'
The New York Times' Lens blog has a commentary on this year's winner and some past winners but, be warned, some of them are extremely graphic in content.