Jan 13, '20 11:01 AM

Entries are open for the White House News Photographers Association's Eyes of History competition – a great chance to get your work in front of DC folks.
Jan 2, '20 8:04 AM

Robert Frank died in September of 2019 and he made The New York Times Magazine's end of year retrospective, The Lives They Lived.
This is an interesting look at his work, moving well past his seminal book, The Americans, and into some of the other work that helped pay the bills inlcuding promotional work for the Times.
All these pictures had such loose, grainy softness that the lack of concern for formal composition suggested Frank was after something else: essential human feeling extracted from the blur of life. "I saw a lot of things other people didn't see," Frank said. "The eyes were always fine and could always find a place of interest and zoom. That's my profession, to look."
Jan 1, '20 6:52 PM
We think it so common now – make a photo, two or three clicks later it's shared around the world. There's an entire generation who doesn't even understand the idea of having to wait to see your own photos, let alone having to wait to see news photos from around the world.
But 85 years ago today, the Associated Press changed the world – the first Wirephoto made its way around the country and visual storytelling became an integral part of our news consumption.
Sixty years later, I was racing around New England with a trunk full of chemicals, stainless steel tanks, film reels and a … $35,000? … Leafax IIId digital transmitter, still needing a place to process film and tap into a phone line.
We've come a long way and it has been a very good journey.
Nov 11, '19 8:01 AM
How we deal with families after they have been through a traumatic event is a constant conversation for us. Finding the balance between the needs of individuals and the needs of a community can be brutally hard.
We never want to intrude, we never want to add to the grief a family is experiencing but, at the same time, their story can have a powerful impact on a community. That story can both explain what has happened and help a community move forward, through healing or actions of change.
Cesar Rodriguez walks us through his coverage of the slain family in Mexico over at Time.
They were telling me that we want people to know what happened because if they don't know, if things don't change, their deaths will have been for nothing. So something good has to come out of this. Something powerful.
Worth a read.
Oct 25, '19 10:14 AM
A sarcastic Tweet reply set off Dan Ginn at The Phoblographer this week.
As it should have.
I'm forever thankful I work with students who care about their communities and want to use photographic tools to explore and explain issues within those communities. As a general rule, the see photography as a means, not an end – our classes, workshops, discussions and goals are not based on making a photo, they're based on making a difference.
Because I am a camera geek (I know, you're shocked), I do spend some time on sites focused on photography. There is a significant level of, "I love how this lens made this woman beautiful" types of posts and, well, every one of those gets me a little closer to leaving that group.
I'll grant that my reason for carrying a camera is not the same reason as everyone else's. I use photography to record, process and comprehend my world – and, once I've made some sense of it, to share that information with others. It is a documentary tool, an investigative tool, an exploratory tool. If I'm going to freeze a moment in time, there needs to be some societal value to that moment that adds to our understanding without minimizing or objectifying others.
If your photos don't educate and illuminate, I'm just not that interested.
But, hey, that's just me and sometimes I like to photograph my dogs, too. I don't think they feel objectified by this.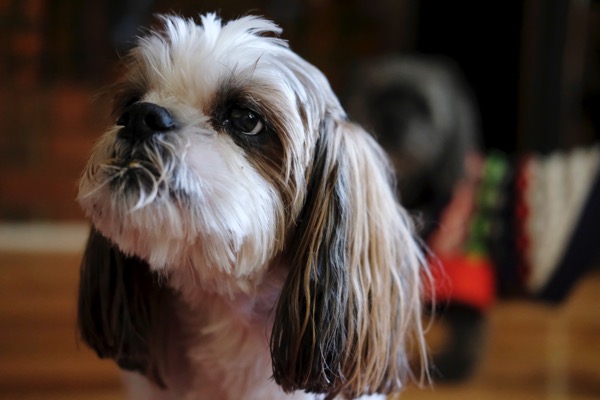 Oct 22, '19 8:22 AM
On the one hand, I think the partnership between the Barbie brand and National Geographic is great – giving kids, especially girls, more role models and career views is fantastic. The growth of the Barbie line in my lifetime has been fun to watch (even if our own kid never played with one).
That said, the video released as part of the promo is … well … not what photojournalists actually do. The first half is what we call "spray and pray" – point the camera everywhere without any thought.
After that doesn't work, NatGeo Barbie sulks off with Forest Conservationist Barbie until – Oh LOOK HOW LUCKY WE ARE – the mythical monkey appears and plays happily in front of them.
As the commercial says, that's not how this works, that's not how any of this works.
I suppose a video with NatGeo Barbie reading academic journals that explain the movements of monkeys through the forest is not going to be as exciting, but this is setting kids up with the (overly common) mistaken belief that great photos come from luck.
They don't. They come from preparation.