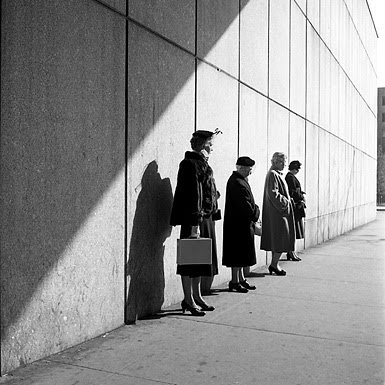 On the National Press Photographers Association's listserv, Lynn Maniscalco sent along a link to a segment done by Chicago Tonight on Vivian Maier, an unknown street photographer who worked as a nanny in Chicago for more than 50 years. A local man bought her negatives at a storage locker auction and … well … watch the video below for more information.
John Maloof has been scanning the estimated 100,000 images for the last two years and posting them online. There's a show that will open in Chicago in the next few weeks of her work and, on the web site, he reports that there will be a book of her work in the fall of 2011.
Sign me up … looking through what he's posted so far is pretty stunning. She has an eye for light and composition that I am jealous of. She moves from graphic, distant shots to close-ups with relative ease. Her sense of form is grand. So, um, yeah … really becoming a fan of her work.