Jul 31, '11 11:22 AM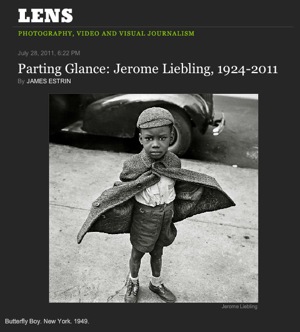 Over on the New York Times' Lens blog, James Estrin wrote a great tribute to street photographer and teacher Jerome Liebling. I had never heard of Liebling, but after reading this, I really wish I could have taken a class with him.
Jerry Liebling's photography classes — at least in the late '70s, when I studied under him — consisted mostly of his lecturing about everything but photography. He would talk about Greek philosophy, German history, Jungian psychology, 16th-century Flemish painting and French cinema. In the same lecture! Only rarely would the names of Edward Weston or Lewis Hine come into the conversation. Then, a half-hour would be devoted to his tough critiques of our photographs.

While the lectures were thrilling, I was often frustrated. Jerry refused to teach technique. He insisted that it was unimportant.
We joke in my classroom sometimes that photojournalism is the only class you should have to take at the university as it dips into history, economics, sociology, literature, physics, chemistry, psychology, anthropology and dance, along with, well, everything else. Liebling's class sounds right up my alley.
Jul 26, '11 11:30 AM
The buzz continues … and I want to see this.
Jul 20, '11 8:39 AM
Need to see if this running around here next week … on July 24, 2010, Ridley Scott and Kevin MacDonald asked people to shoot video all around the world and submit it. They received 80,000 submissions, 4,500 hours of footage.
And they made a movie out of it with National Geographic that's supposed to open on July 24, 2011.
(Thanks to Drew Vigal for the link.)
Feb 24, '11 9:03 AM
It looks like we've got all the pieces for the ICONN Annual Conference in place again. After getting weathered-out in January, I'm hopeful that we'll have some nice spring weather on March 24 and 25 here in Athens.

So why should you come? Well, Athens is a great place in spring – especially if you're coming from the north or midwest. We'll be turning green all over the campus with pops of color here and there. Not to brag, but the University of Georgia campus is one of the nicest I've ever been on.
The schedule is below, and you can register online for the cheap price of $25 for professionals and academics and $15 for students. We've reserved a block of rooms at the Georgia Center, which is right on campus and a (free) five minute bus ride from the Grady College of Journalism and Mass Communication, where all the sessions will be. (When you call the hotel at 800-884-1381, make sure you give them this code: 72592 for the discounted rate.) Included in your fee is a Thursday evening banquet and lunch on Friday.
And, as we announced, you should stick around for an extra day to attend the Bluejeans Workshop on Saturday. If you're going to come all this way, why not hang out a little longer and get more knowledge, right?
SCHEDULE
Thursday, March 24

12:30-1:15 Registration

1:30-2:00 Mark E. Johnson, University of Georgia: Fail Faster

How do we learn to learn when everything we know changes so fast? A welcoming note followed by a charge to fail. Fast. And then move on to the next possible option.

2:00-3:00 Victor Hernandez, CNN: Next Generation Journalism

Where is online journalism going? What do we need to know?

3:15-4:00 Steven Padgett, Troy University: Across Departments to a New Platform

At Troy University, the Journalism Department is working with the Computer Science Department to build an iPhone App.

4:15-5:00 Jim Stovall, University of Tennessee: Writing for the Web

6:30 Joel Sucherman from NPR: The Argo Network

Tying together the resources of the 12 largest NPR affiliates, this project is designed to strengthen the role public media plays in journalism. (This will be a banquet dinner at the Georgia Center.)
Friday, March 25

8:15-9:00 Mark E. Johnson, University of Georgia: Multimedia on the Cheap

You want to teach this stuff, you want to learn this stuff, but how do you get past the cost barrier? Can you do it with low-cost hardware? And can you do it without taking over your entire curriculum?

9:00-9:45 Jim Stovall, University of Tennessee: JeffersonNet

The new platform for developing online news sites using WordPress.

10:00-10:45 Dean Littleton, WVLT-TV: Advertising and the Web

11:00-11:45 Dave Tulis, Athens Banner-Herald: Multimedia – What Worked, What Didn't in 2010

Every wonder what multimedia pieces work and which don't? A close look at one year's worth of online efforts and reader responses to them.

11:45-12:00 Krista Kapralos, UPIU – Mini-internships Around the World

UPIU is the journalism training arm of United Press International, offering mini-internships for journalism students around the world. We offer hands-on, practical experience, a shot at a UPI.com byline, and opportunities for students to work as paid freelancers for UPI.

11:45-1:00 Lunch & Geek Out

It's campfire story time – we're looking for six, five-minute presentations on some tool, technique or tip that helps you tell online stories. What do you know that we should know?

1:00-2:00 Mark Schlabach, ESPN and Steve Klein, George Mason University: Sports Journalism

Sports journalism has moved and morphed. It's no longer enough to be a great writer or a great broadcaster or make a great connection with your audience. Now you need to do all of it. And faster.
Support for the ICONN Annual Conference is being provided by the James M. Cox Institute for Newspaper Management Studies and the Journalism Department of the Grady College of Journalism and Mass Communication at the University of Georgia.

Feb 23, '11 9:21 AM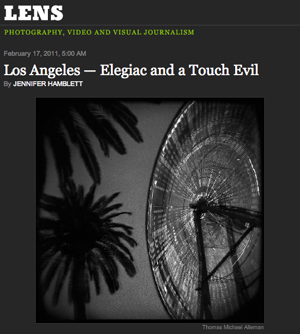 The New York Times' Lens blog has a post up looking at the work of Los Angeles-based photographer Thomas Michael Alleman who has been wandering his home town's streets with a plastic Holga camera for the last nine years.
There's a visual style, a depth to the work, that I really enjoy. I'm not so sure I can go so far as to say he was "photographing grief" as he is seeing where he lives in a layered way.
He is asked when he will know the project if finished and I love the answer:
There is no actual need to shoot the picture anymore, but you still do it. You keep working on it because you are drawn to it.
That, right there, is the essence to a great piece of personal documentary work.
Feb 15, '11 8:32 AM
This is a program I hadn't heard about until recently. Legendary musician Peter Gabriel is one of the driving forces behind Witness.org, a group that is putting video cameras into the hands of oppressed people to help document human rights violations around the world.
From a CNN interview …
Feb 15, '11 8:04 AM
Good interview/essay with photojournalist Peter Turnley, who has probably photographed more fallen world leaders than many of us can count. The value of access and the images created from great access can't be underestimated.
Feb 7, '11 8:46 AM

I can't wait. I can't wait. I can't wait.
This has been on my calendar for months and it's almost here – The High Museum of Art in Atlanta will have the Henri Cartier-Bresson exhibit open in less than two weeks.
I can't wait. I can't wait. I can't wait.
Former student Katherine Poss suggested a class field trip, which isn't a bad idea.