For my spring Introduction to Photojournalism courses, I've decided to move away from the book I've been using, in some iteration, for the past 11 semesters and go to Joe McNally's LIFE Guide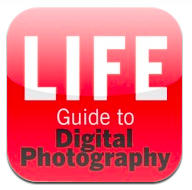 to Digital Photography. After reading the book last month, it was a pretty easy choice. His enthusiasm and technical expertise come shining through–it may be the only text book my kids ever get that they truly enjoy reading.
Well, much to my surprise, moments ago they released the book as an iPad app. It's downloading as I type. It claims that the text is the same, but with added videos and more than two dozen audio clips … this is gonna be cool.
McNally is one of those guys who, when he wears out his last set of filters, needs to be in a classroom full time. I've been hoping his alma mater (the same as mine) would hire him for years, because I might go back to school yet again to sit in that classroom.