Librado Romero at the New York Times has been producing a wonderful series of stories looking back at the great photojournalists who have worked for the Gray Lady. The latest focuses on Ernie Sisto who spent five decades at the Times.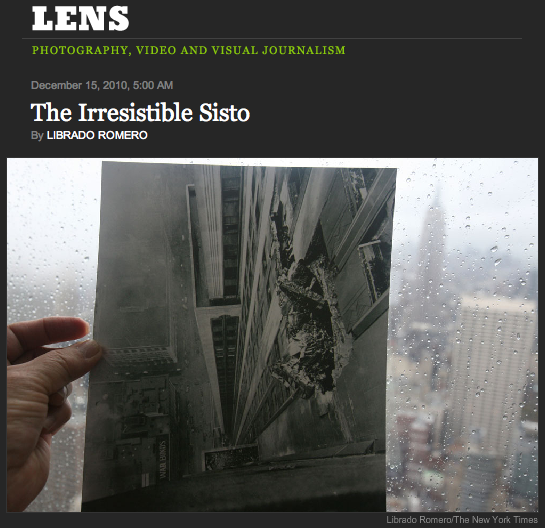 According to Romero, he was a great storyteller and a pretty good photographer.
"I was doing a handstand on the table when the cops broke the door down."

There's just no resisting a story that starts like that. And that's how Ernie Sisto would hook an audience. He was as good a storyteller as he was a photographer. And, like all good photographers, he was equipped for any situation.
Sisto is most famous for an image he made in 1945 when a B-25 bomber, lost in the fog over New York City, crashed into the side of the Empire State Building, killing 14 people and opening up a two-story tall tear in the building. He worked his way into the building, up to the scene … then went several floors further up. With two other photographers holding his legs, he suspended himself over the side of the building, 86 stories up …
I hope Romero puts together a book with all these stories, I'd buy it in a heartbeat.