UGA Motorsports Workshop Wrap-up
It has been nearly two weeks since my world went very, very quiet. My hearing has recovered and the memories are still pleasant, seems like a good time to talk a bit about the UGA Motorsports Photojournalism Workshop.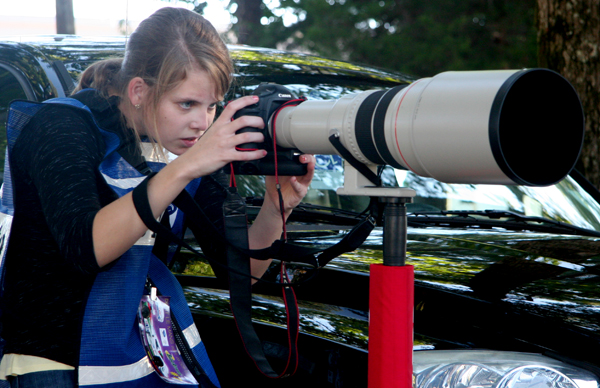 This is an insane idea, to be honest: Take one class full of college students to one of the premier motorsports events in the country, credential them as working media and send them to scour the corners, curves and car corrals that make up the American Le Mans Series' Petit Le Mans at Road Atlanta. Add in five editors, eight computers, technical support from our great friends at Canon USA and the never-ending enthusiasm of the ALMS' John Evenson and you have one very long, very loud, very exciting and very exhausting day.
And now we've done it for the fifth time. I keep waiting for my boss to appear in my office, give me his, "Got a minute?" query and tell me to knock it off. But he hasn't in the past and he didn't this year. (In fact, he came out and joined us along with our development director and an alumnus.)
This whole thing started on a whim in 2006. Cecil Bentley, Grady College's career services coordinator, had been invited out to the American Le Mans Series' headquarters to talk about internships for our students. Knowing I was a car guy, he asked if I wanted to tag along.
Stupid question. I drove.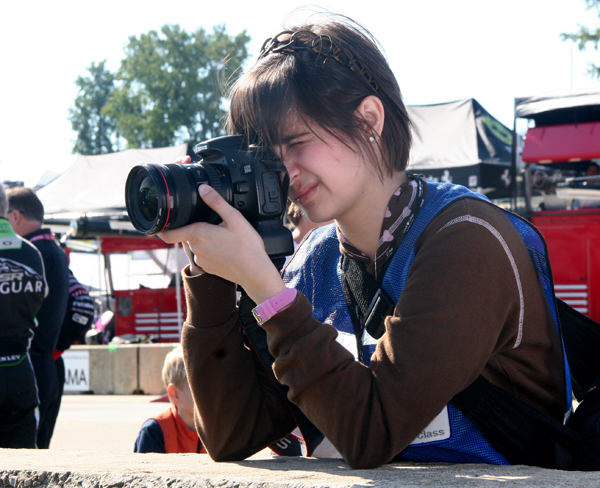 We walked around the facility with Evenson for a while, talked for a bit about what our PR students knew and could help with, then went to lunch. Somehow, over lunch, Evenson turned to me and asked if there was anything my students might be able to do.
The next thing I knew, words were spilling out of my mouth … what would you think of me bringing a class over to Road Atlanta for the Petit Le Mans? Sixteen kids, handful of editors. Get us some space to work out of, set up some computers. We can share some images for the series and track to use … I think the whole pitch lasted about 30 seconds.
I remember thinking, man, this is a crazy idea, but what the heck? Where's the harm in asking? Maybe it gets ratcheted down into something more reasonable.
Evenson smiles and said, "We can do that."
Holy cow. I'd just created a workshop, off the top of my head, that was going to put my students alongside multi-million dollar race cars doing 200 mph …
Well, we've now done it for five years. Evenson – John – has become a supporter of our students and a friend to me. The track welcomes us each year enthusiastically. The teams welcome the students. And the kids buzz for weeks about the race and the event.
We had five editors this year:
Woody Marshall, from the Macon Telegraph, who has done all five now, I believe.
Dave Tulis, from the Athens Banner-Herald, in for his first-ever workshop
Minla Shields, late of the Atlanta Journal-Constitution and a very-recent Grady grad
Rachel Turner, from Score International, in for her first workshop
Kendrick Brinson, from LUCEO Images and the only UGA PJ alumna to do one of my workshops so far. Graduating just before I came south, Brinson is a co-founder of LUCEO and wrote up her thoughts on the event, as well.
We also had on-site support from Fred Metzler, another guy who has become a huge supporter of my students. Fred has brought little gifts in the past for us, fanny packs and little trifold stools. This year, though … wow. Canon, through Fred, donated two monopods and, ahem, four super-telephoto lenses: a 600 mm f/4.0, a 500 mm f/4.5, a 400 mm f/2.8 and a 300 mm f/2.8.
We were, in a word, stunned. When he made the announcement a small smile creeped across my face while the students screamed with joy, then proceeded to grab all the lenses and rush off to the far corners of the track.
In a bit of validation of their work, AutoWeek.com put up a gallery of their images right after the race and the track and series will use their images throughout the year to promote the races.
It was an awesome day, to say the least. I can't wait for October 1, 2011 …
(More scenes after the break.)