Aug 23, '15 6:00 PM
John Freeman, a photojournalism professor at the University of Florida, came across a man in distress – what would you do?
In this case, his choice was clear (and I fully support his decision). But what if the situation were different? What if someone else was there?
What would you do?
Jul 16, '15 10:36 AM
UPDATE: We have decided to postpone this event until the spring. More details as they develop.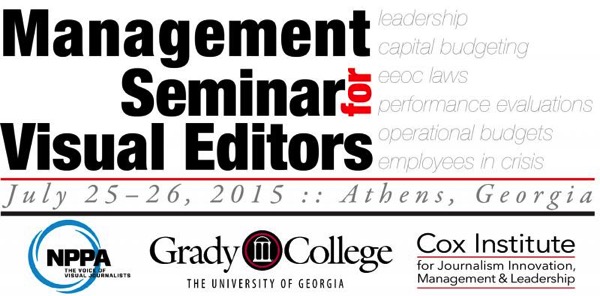 This is coming up quick: Grady College and the National Press Photographers Association are co-sponsoring a Management Seminar for Visual Editors here in Athens next week.
Get ten hours of training on leadership, hiring practices, budgeting and helping your employees through crises. This is cheap training – $50 for NPPA members – and you can come to Athens on Saturday morning, leave early Sunday afternoon.
We will be looking at registration numbers this evening to make sure we have enough people signed up – if you're a manager, new or old, or are thinking about it, get registered NOW.
May 19, '15 8:50 AM
Beginning of a new series by Gabriel Arana at the Huffington Post on journalists and stress, hopeful that this will go a little deeper into how we deal with it. But, even if it just raises awareness of the issues, it's beneficial – too often we brush off what we've seen and documented and move on. It doesn't work.
What has always concerned me is not just those who witness massive events like the September 11 attacks of the Boston Marathon bombings, but those who see the little slices at humanity, day in and day out. The cumulative effect of bearing witness to the human condition is just as great (and maybe greater) than being present at the big events – and there's little empathy for those who do that work. Everyone talks about where they were when the towers fell, there's a shared experience there – but no one talks about where they were when there was one horrific car crash. Or where they were when one child was removed from one abusive home – but there may have been a journalist there that day. And who do they talk to?
The point isn't that journalists exposed to mass devastation are invincible, but that those suffering most are often tucked away where others don't think to look.