Jul 14, '18 8:57 PM
Kodak is putting an old film back into production – Ektachrome, last made in 2012, will be back on the market this year.
As you read through Stan Horaczek's story, study the image labeled Master Control. There are two items that will tell you this is a modern image, even though it looks straight out of the 1980s. While there may be some money to be made in Extachrome, it's apparently not enough to redesign all the manufacturing and monitoring equipment.
May 5, '18 11:47 AM
I am going to put this right up front – I think Craig Walker may be one of the most important photojournalists of our time.
He won earned two Pulitzer Prizes while at the Denver Post, one for a story on a kid joining the Army and a second on a Marine coming back from war. This week, the Boston Globe published Raising Connor, the story of a 13 year old boy with autism.
Walker invested the time, invested the energy, invested the compassion that this story needed. It is a shining example of what Roger May refers to as heartwork.
Not noted in the story, but due acknowledgment, are the editors who gave Walker the ability to make this story happen. It is stories like this that give us a true insight into what is happening in our communities, that let us both see and feel.
Last night, I sent another group of visual journalists out into the world at the University of Georgia commencement ceremony. We talk about stories that illuminate, educate and resonate – this story is what I mean by that.
Mar 16, '18 8:07 AM
For every photographer who has ever said they need to travel somewhere to make better images, for every journalist who has driven to work with windows up and music playing, you must read this piece by Neeta Satam on how to see stories ethically.
Next week, students in our Documentary Photojournalism course will head a little south for our 13th Annual Woodall Weekend Workshop, three days in one rural community telling its story. They will focus in on one project, working with ten professionals acting as editors, coaches and mentors.
There is nothing unique or special about the communities we choose for them to cover, they are everyday places full of everyday happenings – stories we need to see to understand who we are.
These are the stories of our backyard.
(Thanks to Sean Elliot for the link.)
Jan 6, '18 7:23 AM
A wonderful piece by a gentleman whose work I admire and whose character I deeply respect – Billy Howard writes about making a group photo at a summer camp and becoming part of the camp's legacy.
Too often we drop into people's lives, quickly assess what makes them who they are and then dash off. If the photo succeeds, if it wins awards, maybe we get to stand on a platform in a darkened room before our peers and share our experience of how we made the image. But how often do we consider what it was like to have been on the other side of the image? What did that experience mean?
Mr. Howard knows for those he photographed last summer wrote a song about it.
Dec 6, '17 9:36 AM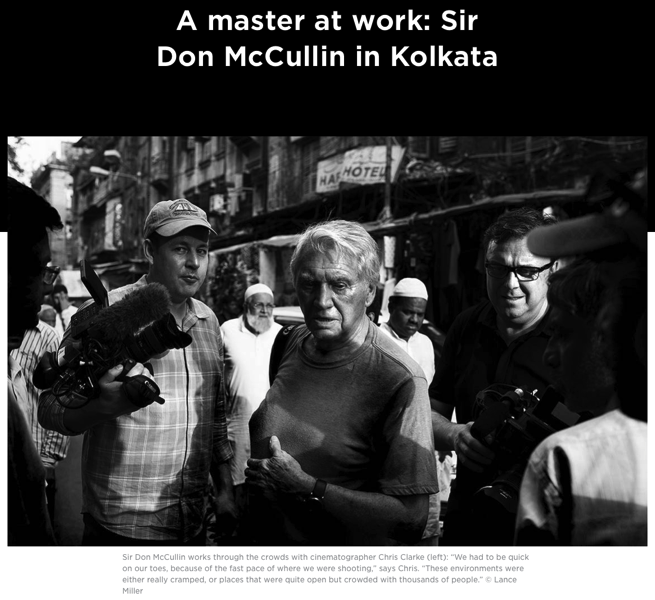 Yes, this is a PR piece from Canon Europe. Yes, it's designed to get you interested in spending many, many dollars on Canon gear.
But it's Don McCullin talking about the way he makes images while he makes images in Kolkata.