The Risks of Sports Coverage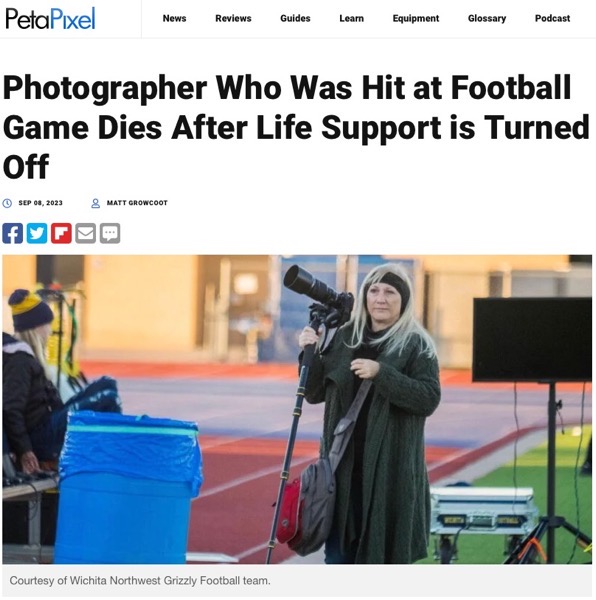 There are mutliple stories out about the death of a photographer who was hit at a high school football game. Most of them leave me with a lot of questions and sorrow.
Linda Gregory, a long-time supporter of the Wichita Northwest High School team, was knocked down when two junior varsity players came out of bounds, reportedly hitting her head on the concrete apron. It has been reported she was looking in a different direction.
One of the things I stress with my students is situational awareness – know where the play is, know where it may be next. That's hard as there are many things to photograph when on the sidelines, especially at high school events where you have passionate coaches, teammates and fans.
And, yes, I've had my own students, who I have talked with, hit on sidelines – there's no way to eliminate all risks, but you must minimize them as much as possible.
The fact that there was a "concrete apron" close enough to the edge of the field is concerning to me but, without being there or seeing what happened, it's hard to know if that was a design flaw or just an unfortunate placement.
Last week, a Facebook friend posted a photo of some high school students out covering a game on a Friday night. Privately, I messaged him and asked him to talk to the students about safety. Two of the three were seated on the edge of the field. Had a play come their way, they would have had no way out.
For my kids, I teach them to have one knee down – the lower angle helps clean up backgrounds and add drama, but that also allows them to quickly push up and away with their other leg if players come near them.
Will it eliminate all risk? No, but maybe it gives you a better chance of being able to finish the job.
There are platitudes about Gregory dying while doing something she loved, which may be comforting but it's still tragic – no family should ever have to watch their loved ones suffering like that.