My Local Newsroom is Lying to Me … AGAIN (Updated)
Two months ago, I took my local publication – the Athens Banner-Herald – to task here for deceiving its readers with the misuse of a photograph. They had a wire story about "4 twisters confirmed in Georgia after weekend storms" and a very dramatic photo of TWO tornadoes.
It didn't seem right, and after some research I found that the photo had been shot in … Nebraska. A year earlier.
After my post, they removed the photo. Later, they appended a correction and sent me this email:
Thank you for your commentary this morning regarding the photograph that ran with the article "4 twisters confirmed in Georgia after weekend storms." The photo has been removed and the article corrected to represent the inappropriately used photograph. I've attached the URL of the corrected article to this email. The Athens Banner-Herald regrets this error and is taking internal actions to correct it and assure that these mistakes are not made in the future.
I was happy with this response – they fixed the error, publicly admitted they had made it and, to me, said they would takes measures to ensure this wouldn't happen again.
IT HAPPENED AGAIN TODAY.
This morning's online edition featured a story headlined, "Authorities say 14-year-old fell into Chattahoochee river." Here's a screen capture of the page: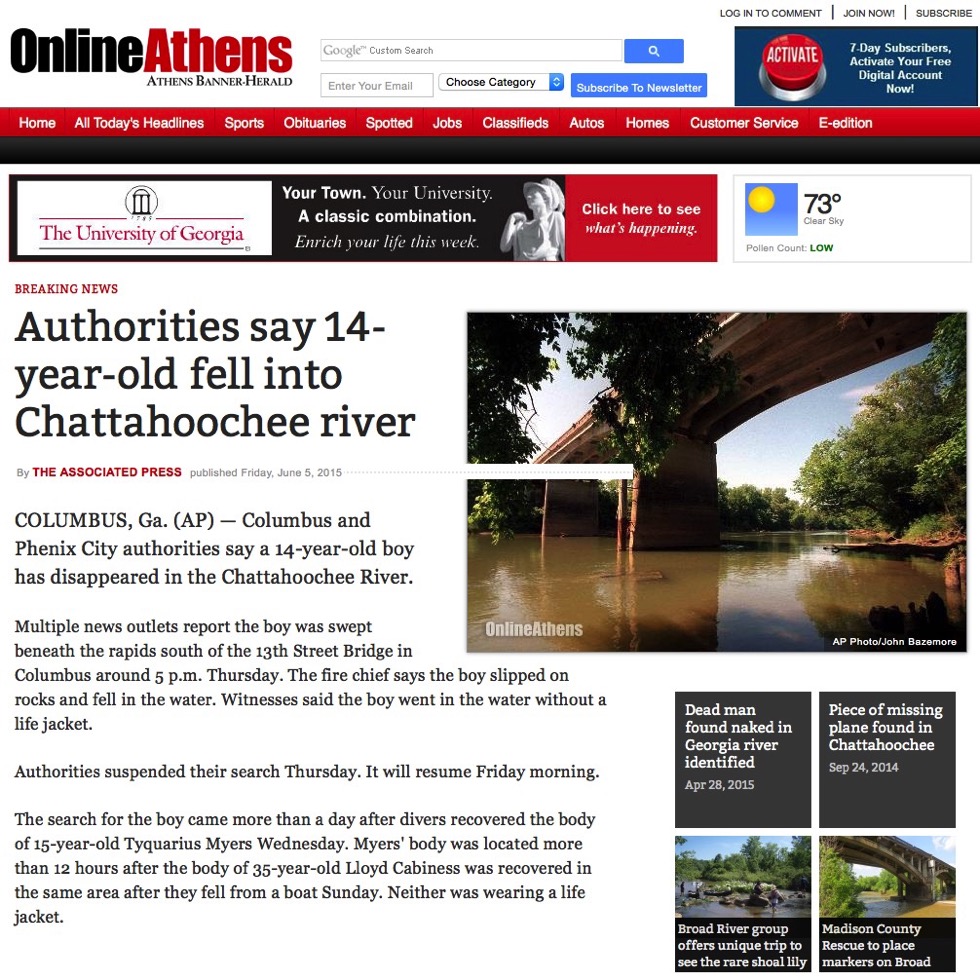 From the story:
Multiple news outlets report the boy was swept beneath the rapids south of the 13th Street Bridge in Columbus around 5 p.m. Thursday.
Clicking on the photo gives us a slightly larger version of the photo, but there's no caption: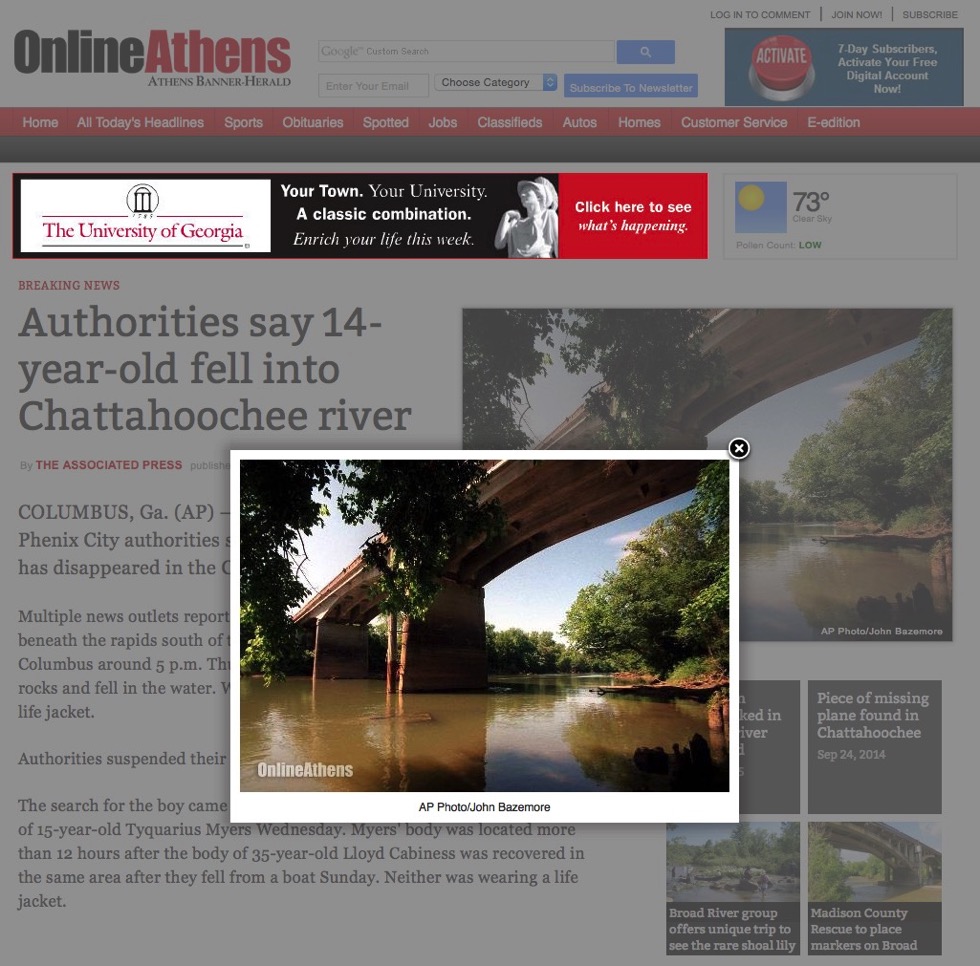 Here's what triggered my concerns – the story says, "was swept beneath the rapids south of the 13th Street Bridge." There are no rapids in that photo.
So, I plugged the address into Google Maps and looked at the satellite view: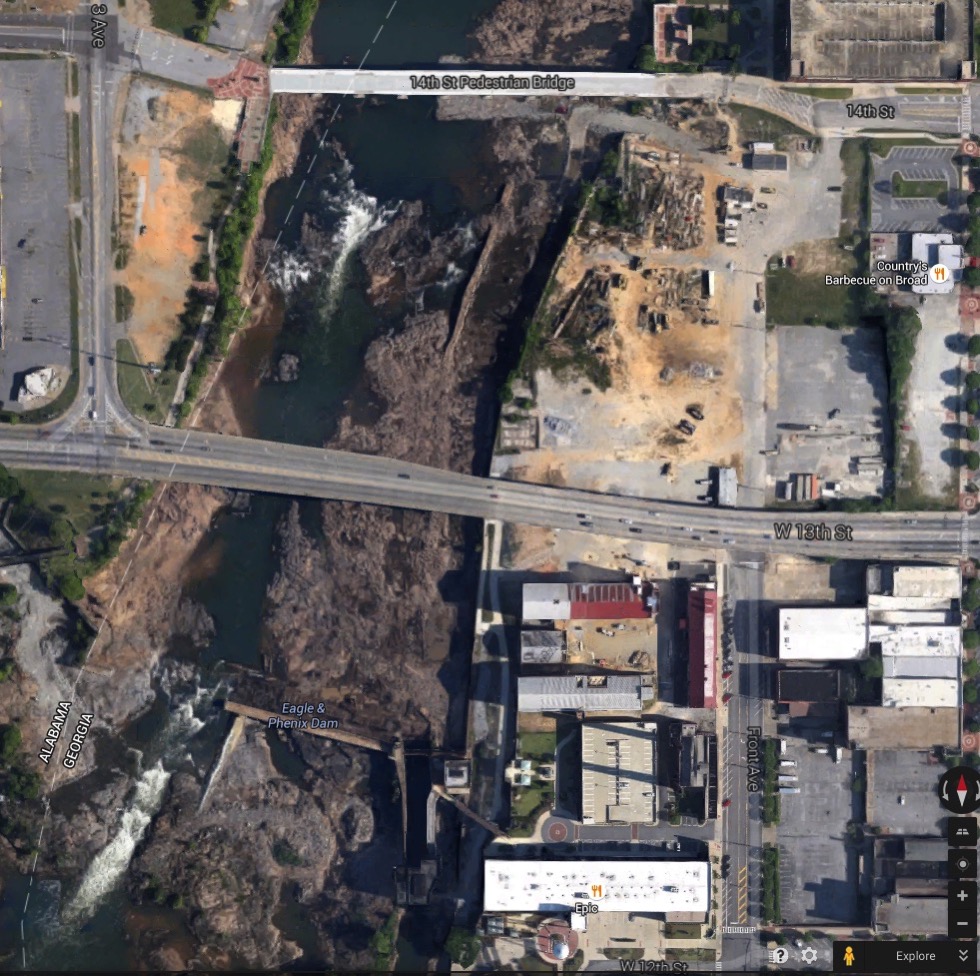 I see rapids south of the bridge. I also see a lot of rocks and not many trees.
I searched, with the assistance of some friends, and found the original photo, made by the Associated Press' John Bazemore.
IN 1999.
IN ATLANTA.
Here's the caption:
ADVANCE FOR SUNDAY JUNE 20–The Bridge over the Chattahoochee River in Atlanta, shown Wednesday, May 26, 1999, is where Wayne Williams first became a suspect in a string of murders after he was stopped and questioned when a police officer, staked out under the bridge, heard a splash. Two days after later the body of Nathaniel Cater, 27, was pulled from the river downstream. Williams was convicted of the murder of Cater and Jimmy Ray Payne, 21, whose body also had been found downstream. (AP Photo/John Bazemore)
The Athens Banner-Herald used a 16-year-old file photo of a bridge in a different city that's associated with a murder to represent the bridge where a 14-year-old boy disappeared. A photo that, in tone alone (placid water versus the reported rapids) ISN'T EVEN CLOSE TO BEING ACCURATE.
I know the research says visuals get clicks. I know the research says readers are more likely to engage with a story if there are visuals. But if you are so willing to lie to your readers with visuals, what else will you lie about?
The only thing journalism organizations have is credibility. If you lose that – or, in this case, willingly give it up repeatedly – you have nothing.
To quote myself from less than two months ago:
The credibility of our industry is one of the few things we should be able to control. Market forces, reader attention spans and advertiser wanderings are things we'd like to control but, realistically, we can't.

But we do control what we publish – and what we publish must be both accurate and truthful. If it isn't, then what's the point? The First Amendment protects freedom of speech, it doesn't protect a freedom to lie.
UPDATE: The story page was updated at 11:15, about 15 minutes after my post went up, removing the photo. But there's no correction or explanation.
UPDATE 2: An hour after the photo was removed, a correction was appended that reads, "An earlier version of this article included a photograph that depicted a bridge over the Chattahoochee River in Atlanta, not Columbus." There is no mention that the photo was from 1999.