Throughout the week, I'm writing a series of posts about buying gear. As we near the end of the semester with graduations and holidays approaching, the number of questions I get from students about putting together a kit skyrockets.
So, now you have your camera, lenses and strobes all picked out. You're almost ready to head out on your first assignment, but there are a few things you may want to pick up.
Filters
First accessory you should get, one that I order with every new lens, is a filter to protect the front element of your lens. This is the best deal in insurance, ever – a simple UV filter will keep dirt and fingerprints off your lens and, more importantly, protect that expensive front element from scratches.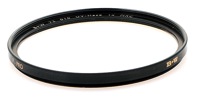 There are lots of options, but a basic UV filter is what I go for – it cuts down on some ultraviolet light and doesn't affect color transmission. Every lens will denote the filter size, either on the lens or inside the lens cap look for a number with a ø after it, that's your filter size in millimeters. Prime lenses tend to be 49, 52 or 58 mm filters; zooms can be 67, 72 or 77 mm. But those are generalizations and I have 39s and 46s around here, too.
For brand, if you're starting out, Tiffen and Hoya make very good filters. Go for the multicoated ones, they'll handle reflections a little better.
If you want to step up from the entry level filters, I really like the B+W line from Schneider Optics. In theory, I know these are much better filters. In practice, I'm not sure my work warrants them …
Shoulder Straps
If you go new on the camera body, buried in the box will be a shoulder strap – complete with the manufacturers brand and, perhaps, model emblazoned across it in bright, primary colors. The strap is perfectly useful, but I almost never keep them – they are straight pieces of cloth that advertise I either bought a very expensive camera or am a total tool and willing to advertise their products wherever I go.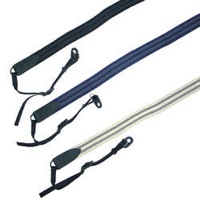 For years, I have turned to the Domke Gripper straps, usually the one inch wide ones for smaller cameras with the swivel ends on them. The center section of the strap is canvas, smooth on one side but with rubber strips embedded on the other to keep it from sliding off my shoulder. The ends are a very strong nylon and connecting them is a swivel which keeps the strap from ever getting tangled up.
The rubber will eventually start to work its way out of the canvas, but at $15 a strap, I'm willing to replace them every few years.
Recently, a couple of companies have started making a different kind of strap that anchors to the bottom of the camera not the posts at the side. I reviewed the Black Rapid strap a few years ago for the NPPA and understand that some may really like this. I'm a little too old-fashioned to go for the bandolier-and-gun-slinger motif, but if I was carrying just one camera I might move to that system. I really liked the way you could lock it in place, out of the way and the $60 strap was very well made. Another company, Custom SLR, also makes straps like this with a lot of accessories, including a tripod plate if you're on and off of tripods a lot.
Bags
Almost as diabolical as the relgion-esque debate between Nikon and Canon is the debate over camera bags. Everyone feels their choice is the only choice … and they are right. The bag that you work out of, whether a shoulder, sling, backpack or belt system, has to work for you.
The go-to bag for years was the Domke F-2 – owning one was like a right of passage, you wouldn't be taken seriously until you wore out one. (I've worn out … um … four?) Domke makes a full line of shoulder bags, from small to ridiculously large and I've owned … um … 15 of them? For me, their construction and usability were unparalleled.
Others options are Tamrac and Tenba, each of which has their acolytes.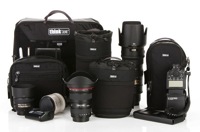 Several years ago, a new company was launched on the west coast that has both great shoulder bags as well as suitcase-style roller bags and a fantastic belt system. Think Tank Photo was launched by two designers and two photographers – Doug Murdoch and Mike Sturm, Deanne Fitzmaurice and Kurt Rogers – and have taken the pro market by storm. After decades of slinging heavy bags, I now have a chiropractor that comes to visit me – it was time to move the weight off of the shoulders and onto my hips. I still sling a bag from time to time, but if I'm out for hours, I'm more likely to use their belt system with a couple of pouches.
Aside: Students, if you're going to order something from them, come see me as I have a discount code that gets us a little kickback.
The last and either most or least stylish option is the photo vest. The greatest one was once made by Banana Republic, but they stopped producing it years ago. It looks like someone else has started making it again, though. The other common one out there is the PhoTOGS from Domke.
Camera Supports
One last piece to get you started would be a tripod. (And, if you're going for long glass, a monopod.) This is a tool you'll toss in the trunk of your car and grumble about buying until you absolutely need to have it. Depending on what you shoot, that could be once a week or once a year – but when you need it, you need it.
If you search online, you'll get thousands of options. But, really, there are only two brands to consider – Gitzo and Manfrotto. Each of them make a full line of tripods and monopods, in aluminum and carbon fiber, large and small, sturdy and cheap.
Much like a great lens or spouse, if you choose well, it'll last you a lifetime.
Random Other Things
It is very easy to become a gear geek once you get into photography. The list of tools and toys is nearly endless and you will always want just one more thing. It may be a Rocket Air Blaster to clean your sensor or a simple three axis bubble level, but if you think you need it, someone else has probably thought the same thing, too. Go look – it's okay when the giant B&H Photo catalog shows up in the mail to shuffle off to an easy chair and circle everything you wanted, just like the holiday catalogs when we were kids.
But, at the end of the day, what you need is a desire to tell stories that matter. The gear we have access to today is so much better than just a decade ago, but study the work that the masters did and understand it wasn't the cameras, lenses, strobes or bags that made those photos – it was people who cared.