The Black Friday barrage of emails wasn't as overwhelming as past years, but there were a lot of things in the inbox this morning. Companies who desperately want to sell me things I really have no need for. (A remote control amphibious beer delivery vehicle? Really?)
In amongst them was an email from Phaidon Press, one of the high-end book publishers. I have a handful of Phaidon books and they're all exquisite. Two images in the nicely designed email caught my eye, one book on Understanding Architecture and another titled Problem Solved. I clicked through to see what they were about and whether I could afford them (even with the 30% off coupon I had, a little pricey).
That lead me to see a book on the history of building with concrete titled, aptly enough, Concrete. (Yeah, my reading habits wander a little.) (But that book looks really cool …)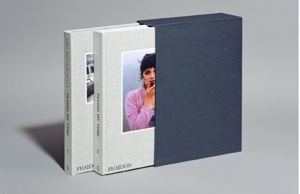 I decided I needed to get back to what I should be reading and saw they were listing a Joel Meyerowitz retrospective titled Taking My Time. And it includes the 1999 film he made about his father who had Alzheimer's. It looks really sweet, but at $750 … ahem … I suddenly thought, "Self, you're in the wrong business again …"
As I scrolled down the page I found four video interviews with Meyerowitz and all of them are good, but one is spectacular. The day I met Robert Frank details, well, the day he met Robert Frank and discovered that he wanted to be a photographer. This is about to become mandatory watching in all of my classes. For years I have tried to convey the importance of gesture, of finding those quiet little moments in life that separate the mundane from the marvelous and here it is – one of the masters explaining it with elegance.
So worth taking the time to watch.
Now, where do I find the money for that book …