The Spot News Photo Master at ICP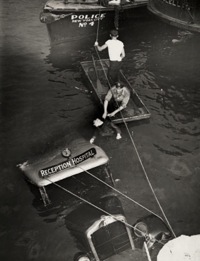 There is one undisputed master when it comes to spot news and crime photography, and that's Weegee. Prowling the streets of New York City in the 1930s and 1940s, he was there first more often than the cops were.
The International Center of Photography in NYC has a show of his work up now, apparently including a replica of the gunsmith sign that was just outside of his office.
Spend some time with the images in the New York Times' Lens blog gallery – that's where spot news photojournalism really took shape.