Newsweek Under FIre for Michelle Bachman Cover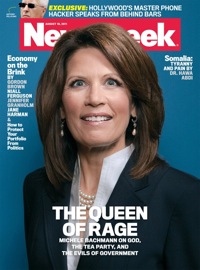 Newsweek's cover story on Congresswoman Michele Bachmann and her run for the presidency has come under fire for both the headline ("The Queen of Rage") and the cover photo.
Some of the images used in the article include a "pious-looking portrait" and a frame with "swept-back hair," according to the Poynter article linked above. The full gallery of images contains a mix of portraits and candids.
Thoughts?