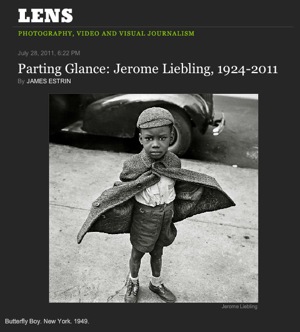 Over on the New York Times' Lens blog, James Estrin wrote a great tribute to street photographer and teacher Jerome Liebling. I had never heard of Liebling, but after reading this, I really wish I could have taken a class with him.
Jerry Liebling's photography classes — at least in the late '70s, when I studied under him — consisted mostly of his lecturing about everything but photography. He would talk about Greek philosophy, German history, Jungian psychology, 16th-century Flemish painting and French cinema. In the same lecture! Only rarely would the names of Edward Weston or Lewis Hine come into the conversation. Then, a half-hour would be devoted to his tough critiques of our photographs.

While the lectures were thrilling, I was often frustrated. Jerry refused to teach technique. He insisted that it was unimportant.
We joke in my classroom sometimes that photojournalism is the only class you should have to take at the university as it dips into history, economics, sociology, literature, physics, chemistry, psychology, anthropology and dance, along with, well, everything else. Liebling's class sounds right up my alley.