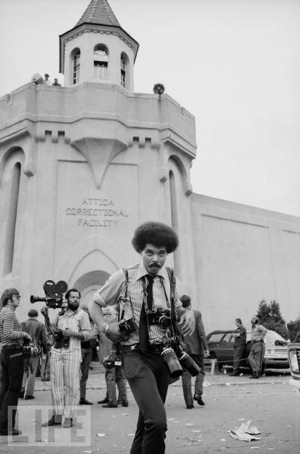 Life.com has a collection of images up of their photographers at work over the years. It's always fun to take a look at how our predecessors were equipped, and they've asked Andrew Hetherington to comment on them, as well.
To me, looking through the images, two really stand out. The first is of John Shearer (at left) working outside the the Attica Prison during a 1971 riot there. That's the classic view of us – cameras and lenses everywhere, determination in the face. (Similar is this shot of Larry Burrows.)
But then there's this image of Alfred Eisenstaedt fixing Richard Nixon's tie during the 1960 presidential campaign. There are no cameras, it's just Eisie and Nixon being very at ease. To me, that says a lot about Eisie's way of working – and his images really showed that comfort level.
(Thanks to Greg Mironchuk for the link.)