Uh-oh … The Flash Bus Tour is Coming to Atlanta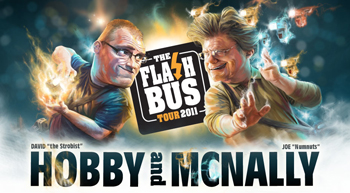 Joe McNally and David Hobby are pairing up to tour the states this spring in a big bus loaded with flash gear. The Atlanta stop is April 2 … I think I may need to get my kids together and get in there.
Egads, the thought of the two leading proponents of small flash units together … I've seen McNally do his stuff, he's insane. I can't wait.
What should expect? A lot of energy being burnt – both direct voltage and caloric. Bring a BIG notebook and an empty brain, both will get filled.
You should also talk to your small business accountant as they will haul out all sorts of gadgets, widgets and thing-a-ma-bobs that you would never even expect to think about using for flash photography.