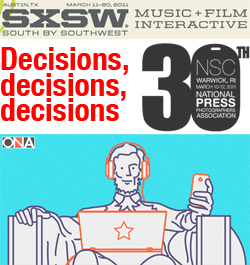 … but I didn't. The opportunity existed, but I didn't grasp it … How many times have we said these things to ourselves? For me, it's reading about the Online News Association's annual conference which was last week. There were tweets-a-plenty to remind me of my folly.
The best round up comes from the Poynter Institute's Mallary Jean Tenore who summed up her top five observations. My favorite is about (what else?) encouraging failure:
Encouraging journalists to fail might seem counter-intuitive, but it's through failure that we learn how to adapt and hopefully succeed in the end.
So, I'm looking ahead to 2011. There's an opportunity to present at the National Press Photographer Association's Northern Short Course and/or attend the South by South West Interactive conference, thoughts? Input? Recommendations? There's one other thing I would like to do at about the same time with/for my students, so something may have to give.