International Relations, Photojournalism and Pelé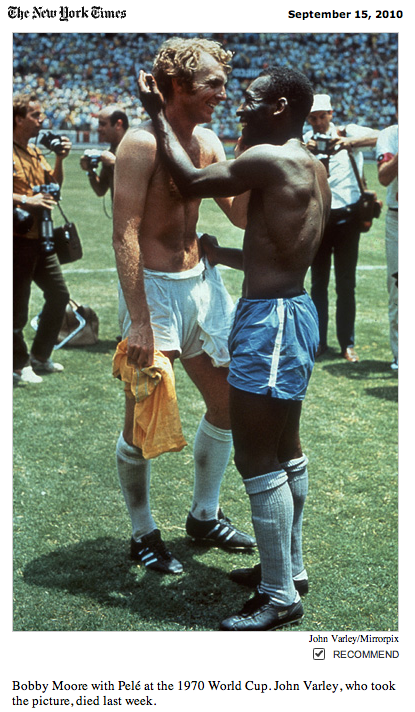 Sitting in my office a few minutes ago, a newspaper came sliding under the partially-closed door. My name, in the classic red ink of Professor Conrad Fink, and his initials, above an obit piece on John Varley. It's an interesting read about a photograph I've seen before but didn't really comprehend that well.
Varley, a British news photographer, made the image during the 1970 World Cup after Brazil defeated England in an early match. It's a simple photo of England's Bobby Moore and Brazil's Pelé after the match, with Moore, smiling, congratulating an equally smiling Pelé. An iconic image among soccer fans.
And an image I'm not sure would be run today if made and transmitted.
Why? Because in our hyper-visual world everything must have drama, must have tension. There's none of that here – it's a quiet moment in an unquiet place that tells a remarkable story about civility in an uncivil world. It is great journalism, journalism from an era when moments mattered but stories mattered more.
You would think with all of the news outlets now that great storytelling could rise again, but I fear that the continues competition will have editors looking for the most dramatic, eye-catching image they can find – regardless of whether it tells a story.
(There, my pessimistic moment for the day … check back later for optimism.)