Linda Gordon has published a new book on Dorothea Lange, one of the Farm Securities Administration's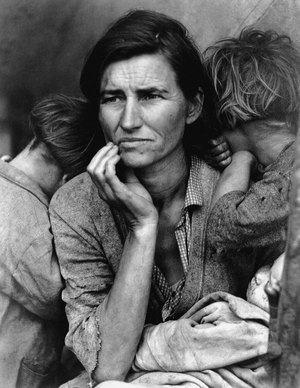 photographers from the 1930s whose iconic "Migrant Mother" photo has haunted and informed us for decades. National Public Radio had a segment interviewing her this morning and has posted an excerpt from the new book, Dorothea Lange: A Life Beyond Limits, which I'll be ordering here in a few moments.
The interview filled in some of my knowledge gaps on Lange, which are admittedly larger than they should be. Her husband also worked for the FSA and they would often travel the country together, leaving their children behind in, essentially, foster care. She wrote detailed captions to go with her images, yet they were almost never used in publications. I also didn't know that she had polio as a child and was disabled, unable to walk with her feet fully on the ground.
Makes what she did just a little more amazing.