May 14, '17 2:41 PM
Fascinating story about how the Associated Press cut a deal with the Nazis to get images out of Germany during World War II.
I find some fault or under-reporting of this story in how they describe whether member news organizations knew they were publishing Nazi propaganda. There is a difference between the captions the AP transmits with photos and the cutlines that news organizations publish. Using a few published clips as evidence that the AP didn't notify members is, at best, incomplete reporting and, at worst, incorrect reporting. Without seeing how the original Wirephotos were sent it's impossible to know what the AP told its members.
Still, a lot to talk about in an ethics lesson here.
Apr 4, '17 12:41 PM
Watch this. NOW.
And stop taking stupid photos on train tracks.
Only thing I disagree with is his statement about "trains plowing through without warning." The train belongs there, the photographers and models are the ones there without warning.
Mar 30, '17 9:27 AM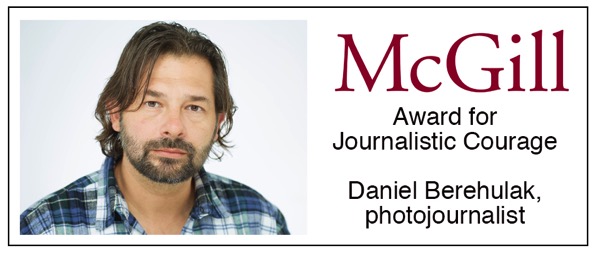 NOTE: This has been postponed, once we have updated info I'll post it here.

Happy to announce that photojournalist Daniel Berehulak will receive the University of Georgia's Henry W. Grady College of Journalism and Mass Communication's McGill Medal for Journalistic Courage at a ceremony here in Athens on Monday, April 10.
Come join us if you can, reception to follow the presentation.
Mar 14, '17 10:24 AM
This was posted last year, but it seems like a good time to review the story behind John Filo's Pulitzer Prize winning photo of the deaths at Kent State in 1970. This is one of the most comprehensive looks at his actions and reactions, worth the time here.
It's alarming to read some of this now, that Filo and others were afraid that people would deny the killings of students by National Guard soldiers had happened, that it would be, to use a modern phrase, sold as fake news.
Filo continued to photograph other people's reactions to the body, angering some students. They yelled: "Why are you doing this?" and "What kind of pig are you, taking pictures of this?" Filo says he yelled back: "No one is going to believe this happened!"
The note he received after winning the Pulitzer Prize is an testament to the role of journalism, that story telling is not a singular goal but a lifetime effort. That note, from fellow Pulitzer Prize winner Eddie Adams, said simply, "Dear John, You have my deepest congratulations. Hold your head up high. Now, let's see what you can do tomorrow."
(Thanks to Katy Culver at the University of Wisconsin for the lead.)
Mar 11, '17 1:38 PM
This is an important read from Anastasia Taylor-Lind – it's a question I wrestle with often. My program is 85% women, yet the industry is almost the opposite of that. Finding ways to support everyone, to ensure that everyone's voice has a chance to be seen … that's what I spend a lot of time trying to figure out.
Mar 6, '17 10:04 AM
It's been a while, but here we go again … my local publication, the Athens Banner-Herald, had a nice piece looking at our local YMCA. It's 160 years old and, according to the story, was the third YMCA opened in the country – that's a pretty cool fact.
They have a gallery of images from to go with the story – some historical photos, a current one of the building. A nice package overall.
And then I get to the last photo in the gallery …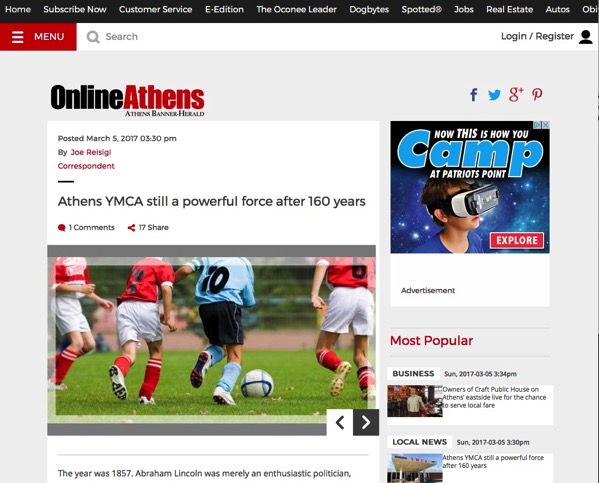 … and it seems odd. Why is there a fade bar around it? Why no faces? Why no logos?
Why? Because it's a stock photo, that's why. It appears on other YMCA web sites, it appears on PlaySportsTV and it appears on the Starkville Soccer Association site, too.
In fact, a reverse image search has the same image appearing on dozens of web sites.
Why? It's a stock photo. A generic image associated with no story. It doesn't belong on a news web site.
This is the consequence of not having photo editors.
Mar 6, '17 9:39 AM
I kind of want to work for Mary Ellen Matthews now …
Mar 3, '17 10:39 AM
Many years ago, I sold cameras. I worked in a catalog showroom, running the photo area for a while. I worked in a one-hour photo lab for a while and did time behind the counter at one of the major retailers in Washington, D.C.
Every one of those businesses is gone now.


The shops I frequented in Boston, places where I built relationships and spent tens of thousands of dollars … all gone.
Here in Athens I can't look at anything beyond the most basic kit cameras in person, there's no one that sells anything I'm interested in.
And now, Showcase Photo & Video, the last holdout in Atlanta, is gone, too. Phil Mistry has the story at PetaPixel – it's a long read, but it's worth it.
So what closed so many photo counters? There's no one thing – the move to digital, manufacturers cutting margins, internet superstores and states not being able to figure out sales tax laws are all culpable.
I ran my photo business for years, I needed to get the best price I could. That's what being in business is all about – lower costs mean higher profits. I never showroomed – I never walked into a brick and mortar shop, asked questions, played with the gear then went home and ordered online for a better price.
But I have ordered online and now, well, I have no more options.
It's important for us as both photographers and journalists to understand this story.
(Thanks to Michael Schwarz for the link.)