Jan 8, '18 9:49 AM
Photo District News is reporting that the LOOK3 photo festival, held for the last decade or so in Charlottesville, will not continue due to financial issues.
This was on my bucket list for a long time, the line up was always intriguing and the atmosphere, reportedly, amazing.
But I've also heard there was minimal, if any, discussion on the business of photography. Every venture has risks involved, markets move on from where you've staked your claim. The key is in making sure you're able to survive those market moves.
Without a sound footing in the business of photography, you won't succeed. I hope there's something new that comes along, that the organizers take what they've learned and build a new program, one that will continue to be supported by the industry, that will draw in amazing storytellers and have them talk about how to both make the images and how to market the images in a sustainable way.
Maybe call it LOOK4Ward … to the rest of your career.
(Thanks to John Harrington for the lede.)
Jan 6, '18 7:23 AM
A wonderful piece by a gentleman whose work I admire and whose character I deeply respect – Billy Howard writes about making a group photo at a summer camp and becoming part of the camp's legacy.
Too often we drop into people's lives, quickly assess what makes them who they are and then dash off. If the photo succeeds, if it wins awards, maybe we get to stand on a platform in a darkened room before our peers and share our experience of how we made the image. But how often do we consider what it was like to have been on the other side of the image? What did that experience mean?
Mr. Howard knows for those he photographed last summer wrote a song about it.
Dec 22, '17 9:21 AM

The Eyes of History contest is taking entries through January 12, 2018 – and there's a student category, for both stills and video. This is a great opportunity to get your work seen by editors in pros around the country.
Dec 6, '17 9:36 AM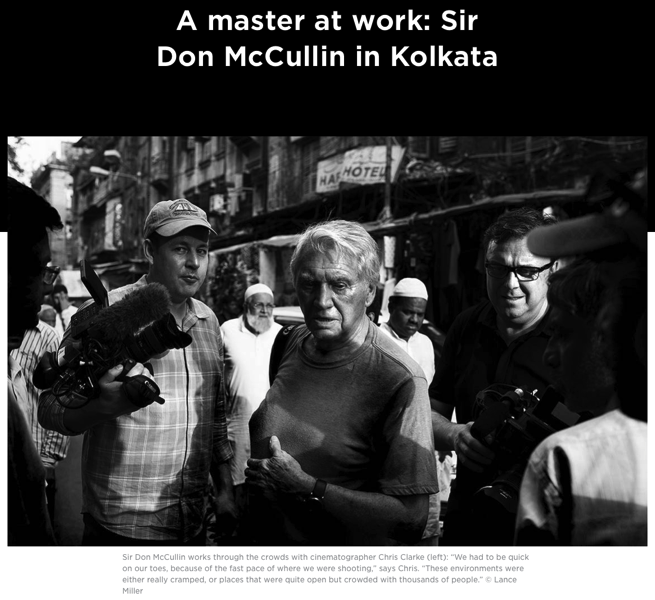 Yes, this is a PR piece from Canon Europe. Yes, it's designed to get you interested in spending many, many dollars on Canon gear.
But it's Don McCullin talking about the way he makes images while he makes images in Kolkata.
Nov 18, '17 7:31 AM
The New York Times' Todd Heisler writes about covering tragic events like the church shooting in Texas.
Because of this, it is important to make images that go beyond grief and crime scenes. Step back. Give a sense of place. Show not just what a scene looks like but, more important, what it feels like.
That last part – about making images that show what stories feel like … that's the goal!, that's always the goal. My friend Billy Weeks puts it this way: "Photos of something vs. photos about something."
You can spend your career making photographs of things and, if you're technically competent and reasonably personable, you can have a decent career I suspect. I'll admit my early years fell into that category – I was a good photographer, always made a usable image and was easy to work with. I look back on some of those stories from the start of my career and I'm not always sure anyone would feel anything. They'd know what happened, but they might not care deeply about it. Lots of record shots, a recording of what was before me.
That's where my students start because it's where we all start. Master the mechanics, figure out the aesthetics, put it into practice in the field. Figure out what the story is, figure out who the story matters to, find the character that helps us understand and then make an image that will make an emotional connection, make someone who wasn't there, who doesn't know, feel something.
That's the real challenge in photojournalism. It isn't about getting sharp photos, it isn't about getting proper exposures. It isn't about having the right lens or the newer sensor or the better job at the bigger publication. Every time we raise a camera to our eye, regardless of who is before it or who will look at it, it is our responsibility to make an image that lets a viewer know what that moment feels like.
That's when the power of photojournalism becomes ours,
Nov 17, '17 12:59 PM
Dave Burnett / ON ASSIGNMENT on PBS 1982 from RelishMIX on Vimeo.
This is a wonderful interview from 35 years ago with David Burnett where he talks a bit about his experiences during the Iranian revolution and more on a package he did on Dallas during the reign of the TV show, Dallas.
I like to just hang out and let the initial ripples from the arrival in an area die down and maybe not even pick up a camera for ten minutes. And then, at a certain point, there's a kind of understood empathy or vibe just something going on there, in the middle of a conversation or something you can usually just shoot a picture or several pictures and it's something you have to feel … you're always the outsider.