Oct 20, '14 8:07 PM
On Saturday, Mike Simons of the Tulsa World had a $10,499 lens destroyed. Today, he apologized for hurting Oklahoma's Sterling Shepard.
Simons is a class act, folks.
Let this be a warning to all shooters on the sidelines – if you watch the video, you'll see him move out of the way easily. Why? He was on his knees, not sitting but kneeling. Had he been sitting, as I've seen way too many shooters do, he would have been flattened along with his glass.
Pay attention.
And to the athletic departments that hand out field passes to well-heeled alumni, knock it off. It's a safety issue for your players and the journalists there to cover them.
Oct 20, '14 9:34 AM
I used to think Scott Strazzante's Common Ground project, which was shot over 14 years, was a big investment.
Then I heard about Gunther Holtorf who, while not a photojournalist, used photography to document an epic road trip. How epic? Think about this: he visited 177 countries over 26 years using the same vehicle, which he put 550,000 miles on.
The BBC has put up a deeper story about him, as well. (I will admit I'm a little annoyed that the BBC flipped a video clip …)
How do you survive that much time on the road?
There are some people who, faced with 99 positive things and one negative, focus on the negative thing, he suggests. "I am the other way round. If there are 99 negative and one positive, I focus on the positive."
Oct 13, '14 12:56 PM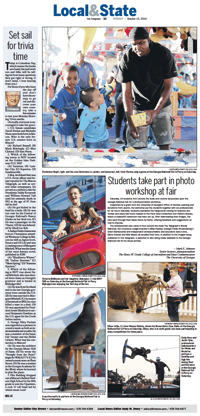 For the last nine years I've lead some sort of a workshop every semester for my advanced photojournalism students. This past weekend, we tackled something new – a 16 hour day at the Georgia National Fair and the Macon Telegraph posted a massive gallery of 265 images in addition to a section front (seen at left).
There are really two big challenges to putting on these workshops – how to fund it and who to bring in. The fiscal problem was solved by my colleague Diane Murray who first found a grant from the University of Georgia's Office of Service-Learning and then put us up on the university's crowd funding site. (I could write many, many things about the crowd funding aspect – looking at the donors and seeing how many are alums from the program really made me feel good.)
The second issue hasn't been much of an issue, either – the willingness of regional professionals to donate their time to my kids never ceases to amaze me. The Columbus Ledger-Enquirer's Mike Haskey, Georgia Public Broadcasting's Grant Blankenship and independent photojournalists and educators Sara Corce, Minla Shields and Billy Weeks all donated their time.
Special thanks goes to the Telegraph's Woody Marshall, though. I sent him one email late on a Thursday last month and by noon the next day, we had a workshop. He'll shy away from taking the credit, that he just made a few phone calls, but because of the relationships he has built over the years this event took place. I cannot thank him enough for his help.
Very proud of the work ethic, attitude and images my kids produced. More than a fair day in the end.
Now, on to the next one, which will be our (ahem) Tenth Annual UGA Photojournalism Weekend Workshop in the spring.
Oct 10, '14 8:41 AM
Opening later this month is 1,000 Times Good Night. The synopsis:
Rebecca (Oscar-winner Juliette Binoche) is one of the world's top war photojournalists, but she's also a wife and mother, leaving behind a husband and two young daughters every time she travels to a new combat zone. After a near-death experience chronicling the ritual of a female suicide bomber, husband Marcus (Nikolaj Coster-Waldau) levels an ultimatum: give up the dangerous profession or lose the family she counts on being there when she returns from each assignment. With an offer to photograph a refugee camp in Kenya, a place allegedly so safe that daughter Steph (Lauryn Canny) is allowed to join her, Rebecca comes face to face with just how much she risks each time she steps back into the fray.
It's opening in Sandy Springs, Georgia, on October 24.
(Thanks to Seth Gitner for the link.)