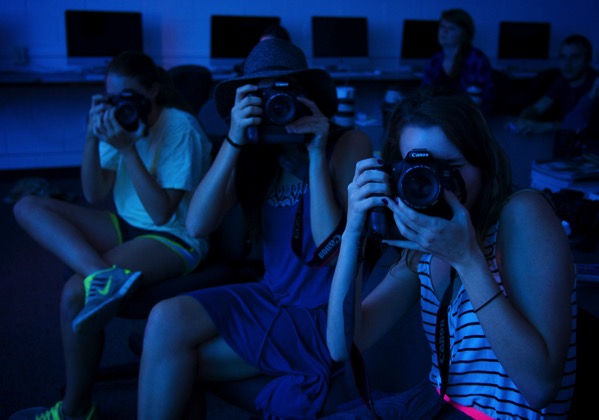 Two interviews that James Estrin did this week at The New York Times Lens blog have had me pondering the future of photojournalism.
Up first was an interview with Donald Winslow, the editor emeritus of the National Press Photographers Association's News Photographer magazine and a long-time supporter of photojournalism.
A few days later, Leslye Davis, a staffer at the Times, stopped in to talk with Estrin about her views and they were almost the polar opposite.
I've known Mr. Winslow for a long time and have had many wonderful discussions with him – his encyclopedic knowledge of our craft's history and the characters within it is unmatched, his passion and commitment unquestionable.
But Leslye Davis is my new hero:
Before pens and paper were accessible people were carving their ideas into stone tablets. I bet when pen and paper came along the writers were skulking around grumpy like, "now everybody thinks they're a writer."
I was part of that golden age, at least the very end of it. It was thrilling and important, helping my communities better understand themselves.
It was also staggeringly limiting – sometimes you needed to hear someone's voice to understand, sometimes you needed to see how someone moved within their realm to understand. We can do that now.
For many years, we took the easy route, covering the obvious events for our daily deadlines. Every now and then, we'd get to do the deep dive story and really be a full fledged Storyteller.
Today, social media feeds fill the need of the instantaneous this-is-happening void. We, who are devoted to the craft, can now focus on the Why, not just the What, the How that explains the Where and the When. We get to deal with the Who as a complete portrait, not just a two-dimensional series of inked dots.
The golden age of photojournalism, limited to and by those who had access to the gold, has passed. In its place we get to build an organic, comprehensive and democratically necessary era of visual storytelling.
And that phrasing is specific – we need to Build this. There are many challenges, but isn't that what photojournalist deal with everyday?