On Photographing Everything
Here comes the cynical me … Jonathan Freeland wrote a pice for The Guardian about our penchant to record everything.
They will not need to look at sunsets and palm trees, for they will have flawless copies on their devices (click!). The great scale of the Notre Dame cathedral, in Paris, or the Colosseum, in Rome, will bring no risk of eyestrain: they will be able to see the grandeur of these sites in harmless digital miniature (click!).
(Insert get off my lawn comment here …)
But it's true, isn't it? That these devices we carry, more powerful than those that sent us to the moon, are used for the most banal of things. Encoding memories takes effort – effort to observe, effort to process, effort to remember. Snapping a quick selfie does none of those things – the advancement of technology have hurt our innate ability to recall the moments in our own lives.
There are studies that show taking notes by hand, instead of by keyboard, improves our comprehension.
It's more the disengagement with reality and, in effect, shared experiences that concern me. Yes, I carry a camera everywhere. Yes, I take photos everywhere. But rarely selfies (three? Maybe four in my life?) and almost always they are intentionally composed after observing what's before me. (My family hates this – I can't walk up to something, glance, snap a pic and move on. Once I'm there, I look all around, studying before finding the vantage point I believe will best share that visage with others.)
Last week, I was wandering around Virginia and decided to put in some time and foot traffic at Petersburg National Battlefield, site of one of the most spectacular (and ill fated) moves of the Civil War. At many of the stops along the trail, I came across groups of teens and young adults. From a distance, this made me happy – people out experiencing history, walking the blood soaked grounds from where our country came to be.
Then I noticed they weren't looking around, they were looking through their devices. Hunting not knowledge but Pokemon.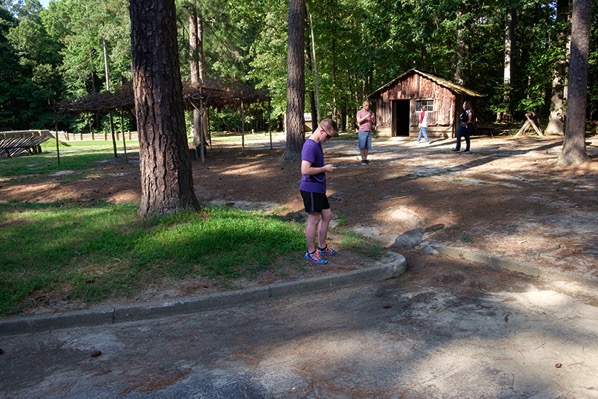 I'm now thinking of putting a sketching assignment into my photojournalism classes – force them to observe, to ponder, to decide what belongs and what does not.