Widgets for Smartphone Video
I'm recently back from a week of teaching teachers at the Poynter Institute where I did a pair of sessions on using your smartphone for video journalism. As part of those sessions I showed off a bunch of widgets I've found useful …
Stability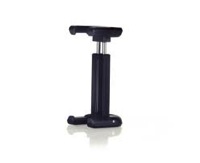 A big issue with shooting small is getting stable video – the light weight of smartphones means you don't have much mass to counter act the shaking in your hands. Finding a way to lockdown your phone is critical to getting professional results.
The first piece I showed is a simple Joby GripTight, a spring loaded clamp with a standard tripod thread on the bottom. You can get it bundled with a small, light tabletop GorillaPod for under $20. This is a very compact clamp, folds up super small and will hold your phone reasonably tight. I would recommend getting a larger, heavier tripod if you're going to work outside.
The second piece I showed was a MeFOTO SideKick360 (in orange, of course). This is a much sturdier clamp and gives me a lot more security when using it. Again, paired with a nice, light, full height tripod this can be a good kit.
Audio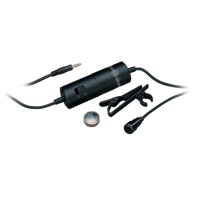 One of the largest issues with using your phone for video journalism is in getting good sound. The built in mic is, well … awful. I have used and recommend the Audio-Technica ATR-3350 for a clip on lavaliere microphone. It runs between $20 and $30, depending on the whims of Amazon. Note that it does use a battery, so make sure you carry a couple of spare LR44 button cells with you.
There are a lot of options for shotgun type mice out there. I picked up a Rode VideoMic and have been happy with it, though Al Tompkins showed off a Shure shotgun with a built in audio recorder that sounded very, very nice. Granted, it costs more than twice as much as the Rode, but being able to record audio separately is a handy feature.
Any of these options have a drawback – you can't plug them straight into most smartphones. To make that work, you need a short adapter to allow your TRRS-plug-equipped phone to accept a TS-equipped mic. Monoprice makes a cable for $5 that handles that and allows you to plug in a headphone to listen to your sound.
One of the other professors at the conference showed me her Movo LV1 which works on the same concept as the Audio-Technica lav mic but doesn't need the adapter. I didn't get a chance to use it, but it's another option to explore.
Brackets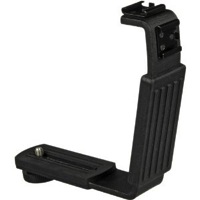 If you choose to use a shotgun mic, you need some way of attaching it. You can buy some very nice cases that will allow attachments that run around $125. But if you want to go a little simpler, combine one of the above clamps with a simple L-bracket that has two cold shoes on it. You can slip your shotgun mic into one and use the other for a small LED light if you need it.
Another advantage to the L-bracket is it gives you a little more mass and a slightly more stable way to hand-hold your phone. It also has a standard tripod thread on the bottom so you can attach it to a tripod if you want.
Software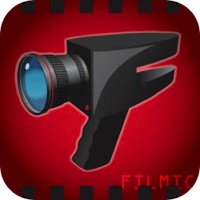 Because the session had both iOS and Android users in it, I didn't go too deep into software. I will make a small pitch for FILMiC Pro on iOS as a substitute for your built-in camera app. It has a couple of nice functions, like being able to monitor (though not adjust) audio levels. the ability to separate focus from exposure and the option to lock focus, exposure and white balance – all things that will help polish your video.
One last cool feature of FILMiC Pro – it allows you to adjust the intensity of the built-in LED light on your phone, giving you the ability to add a little fill light to your footage. That alone makes it worth the $5.
More Learning
If you weren't able to be at the fourth iteration of Poynter's Teachapalooza or Hands On Video seminars, I'll be doing a webinar for Poynter's NewsU on Smartphone Video next week. I'll be going over more of the journalistic approach to smartphone videography than specific tools, but we'll touch on some of these that can help you tell better stories.