Throughout the week, I'm going to write a series of posts about buying gear. As we near the end of the semester with graduations and holidays approaching, the number of questions I get from students about putting together a kit skyrockets.
I am, by nature and nurture, cheap. Or, as we would say in my native New England, frugal. Or, as I would say looking at the paychecks I've collected, poor.
It's a constant dilemma we face – there is gear we need to do the job, but we can't afford the gear until we do the job. And, let's face it, professional photo gear ain't cheap.
So, can you use consumer level equipment if you want to make your living off your vision? My straight up, no reservation answer is NO. If you're a pro, you have the skills, the vision and the business plan to warrant professional level gear.
Consumer level gear is not designed to work every single day – it will fail you eventually. Now I understand that everything will fail eventually, but the chances of the $600 consumer-level DSLR dying in six months of heavy use is much higher than a pro-level body kicking our ERR messages in the same time frame.
But that doesn't mean you have to pay full price for everything. When I was starting out, I knew what pieces I wanted in my Domke bag. I also knew how much that stuff cost and how much I was probably going to be making. There was a significant gap in there.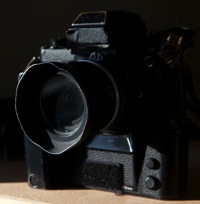 So I did the logical thing – I bought professional gear but I let someone else write off the new box expense. My first Nikon F3HP was bought, used, from a friend who'd had it for a few years. It had some light scratches, but it worked great. I paired it with a pair of used lenses from my local camera shop, one wide and one short telephoto. Add in a used flash and I was off and running.
(Aside: This was not my first camera, which I bought when I was about 12. As much as I loved that little Ricoh, it wasn't a pro-grade camera and had very limited expansion options.)
A quarter century ago, you could tell pretty quick if a camera or lenses was in good shape. They were mostly mechanical and the electronics either worked or they didn't. You could test camera shutters for accuracy with a small device and in-camera meters against a camera you owned or a handheld meter. If you knew your way around lenses, you could work out if the aperture was working properly and if the helicoils were still in good shape for focusing.
Now, though … boy, things have changed. I'm pretty sure most cameras have the power to launch an Apollo rocket and there are a ton of electrical connections inside of them. And lenses aren't any simpler, either – most of the new ones don't have any mechanical connections to the camera, focus and aperture control are done by small motors in the lens barrel.
Is it worth it to go used still?
Yes.
Let's take a look at one lens for comparison. The 70-200 mm f/2.8 is a workhorse for photojournalists – you cannot survive in the news photography business without one. New, the Canon version retails for $2,300 (though there's currently a $150 rebate on it). That's a lot of change.
How about used? If you visit one of my all-time favorite online used camera retailers, KEH.com, you can drop that cost to … $1,600 for an EX+ copy.
Now, that used lens is the previous generation of the image stabilized model, but you're looking at a $600 price difference – I'm not sure the new one is $550 better. It's certainly not $700 better when that rebate expires.
Here's the catch, though – what about a warranty? The reason I love KEH is because they warranty all of their used gear for six months. That's not as long as the one-year warranty Canon provides on a new lens, but it certainly will give you enough time to know if your lens is in decent shape.
B&H Photo and Adorama also have used gear, though their warranty is shorter.
What about buying from private parties? If you know and trust them, sure. Sometimes folks buy things that are well beyond their abilities and decide they don't want to lug around that big lens to take pictures of the grandkids. There are lots of reasons folks put stuff up for sale, most of them valid.
From online classified ads like Craigslist? Here's where I get really nervous – if you don't know the history and you don't have the ability to test it thoroughly, you could get really burned here. Someone may have taken their pricey new kit and dropped it on a hard, rubber floor somewhere – not a scratch to be found, but it's still taken a massive impact that may have knocked something ajar.
Another possibility is the item you're meeting someone in a parking lot to buy is stolen. Tip for Teens: Before meeting, ask the previous owner to send you a copy of their receipt showing the serial number. If they don't have that, get very suspicious.
And the worst case scenario is the item doesn't exist, but you've agreed to meet someone you don't know somewhere you're not familiar with and you're bringing a lot of cash. You know what happens next …
I would day that in the last quarter century, 85% of the gear I purchased was bought used. I don't have all the fancy boxes or crisp paperwork and I do start with a few more scratches, but I'm just going to add to that patina over time, anyway.
So why pay for a nice box when what I need is a money-making lens. Be smart, go used, but be smart about going used.
Prices and links updates on November 28, 2014.