Sports Photo of the Year?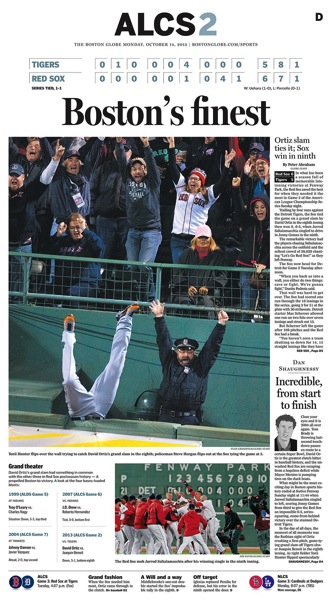 There are some compelling argument to be made that Stan Grossfeld's shot from Sunday night's Red Sox-Tigers ball game is the sports photo of the year. Time's Sean Gregory has the story behind the photo.
Love this quote:
"Most people, with this digital stuff, look at the back of the camera," says Grossfeld, 61. "I'm an old film guy, so sometimes I forget to do that. And I didn't want to look at it. You either have it or you don't. If you don't have it, there's nothing you can do about it. I see guys at NBA games sitting there, looking at the backs of their cameras, and something great happens in front of them. And they look like idiots. I don't want to be one of those guys."
Not that I'm partial, but that ranks up there pretty high on my list of all-time great sports photos.
And makes me miss being at Fenway in the fall …