Celebrating 50 Years of the Instamatic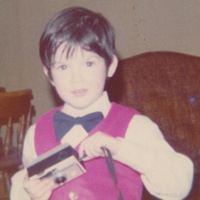 Tom Tobin of the Rochester Democrat and Chronicle has the story of the fiftieth anniversary of Kodak's Instamatic, the camera many said changed the shape of photography.
The camera, all modern plastics and elegantly simple, launched the first really successful cartridge based film system that eliminated the, ahem, "hassle" of loading film into a camera. The square format lasted for decades.
How ubiquitous was it? Well, that's me to the left with my first camera at about age five. We all had to start somewhere, right?
(Thanks to Mark Hertzberg for the link.)