Photographic Museum of Humanity Grant
FYI …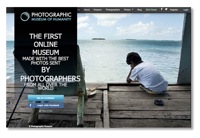 The Photographic Museum of Humanity is pleased to announce its 2013 Grant, an international photographic contest that aims to finance photographers and discover new talents. Magnum photographer Martin Parr, Time Magazine director of photography Kira Pollack, and Perpignan young reporter of the year Sebastián Liste compose the jury that will award a total prize of USD $4,500 in cash.

Photographers are invited to submit a Series of maximum 15 photos before February 18, 2013. The 1st, 2nd and 3rd prize guarantees respectively USD $2,000, USD $1,000 and USD $500 in cash. There will be also a New Generation Prize (USD $500) dedicated to photographers under 25 and a Public Favorite Prize (USD $500). The contest has no entry fee.

The winners will be also granted an exhibition in the Photographic Museum of Humanity, the first online museum dedicated to photography that will be inaugurated in January 2013.

For more information, visit the PMH 2013 Grant page.