Truth with a Camera Workshop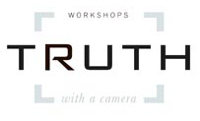 Scheduled for Nov. 10-17 in Washington, D.C., registration is now open for the 2012 Truth with a Camera workshop.
From the release:
The workshop focuses both on teaching visual communicators how to work with and for non-profits as well as instructing non-profits how to work with photographers and use powerful photography. This years instructors include National Geographic photographers Lynn Johnson and Karen Kasmauski as well as educators Ron Londen and Chris Tyree. Speakers include Washington Post photographers Michael Williamson and Jahi Chikwendiu, White House photographers Lawrence Jackson and Sonya Hebert, National Geographic Illustrations Editor Pamela Chen, as well as key notes from Maurice Jones, Deputy Secretary for Housing and Urban Development, Matt Eich, director of PhotoPhilanthropy, Kathleen Hennessy and Pictures of the Year photographer of the year Ross Taylor from the Virginian-Pilot.