All of my social and non-social media streams have been filling up with debates and diatribes over Joe Klamara's photos of the U.S. Olympic athletes made during the 2012 Team USA Media Summit in May.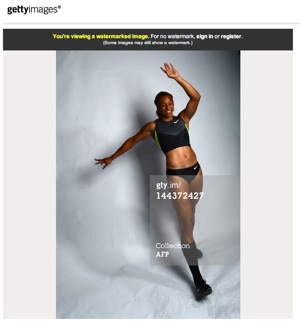 A quick Google search will bring you hundred of results, most taking Klamar to task for his images – almost no one seems to think they're very good. There are some who are defending these as a statement on the over-commercialization of Olympic athletes.
Which, you know … maybe. But I look at the source – Klamar shoots for Agence France-Presse, one of the big wire services. Should he be making editorial comments through those images? Is that what the wire service subscribers want?
Of course, he's also shooting for Getty Image which may be more focused on editorial imagery and less on journalistic imagery. Does that give him an out? Does that okay the harsh, uncontrolled lighting? The torn seamless backgrounds?
What about clipping the toes of Gaby Douglas? Or slicing fingers off of Brendan Hansen? Those appear to just be mistakes – what's the reasoning behind them? What's the intention?
I have resisted posting about this for several days because, well … I wasn't sure what to say. I've been looking at the images, trying to figure out if there was some logic behind them, some message. But I keep coming back to the source – AFP, who describe themselves thusly:
AFP is a global news agency delivering fast, in-depth coverage of the events shaping our world from wars and conflicts to politics, sports, entertainment and the latest breakthroughs in health, science and technology.
These images aren't newsworthy. Maybe they are "in-depth" in some manner, but if you see depth in them I suspect it's associated with some sort of editorialized meaning not because of the depth of character developed here.
Perhaps you want to attribute this to the format of the shoot, where about a dozen photographers had to set up in a ballroom, each given a small space, while the athletes rotated through each set as described by the Dallas Morning News' Vernon Bryant.
So, my opinion: It's a bad set of images, either through intent or incompetence. If the intent was to push forward a viewpoint, then AFP's subscribers should be upset. If it's incompetence on the part of the photographer, then AFP needs to revisit who they are assigning to projects.
(As a note of admission, I have worked as an independent photographer for AFP in the past and always had high regards for the work of my colleagues and editors. There was a level of intellectual intensity that I loved when I told stories for them.)