More FSA Images Found at the New York Public Library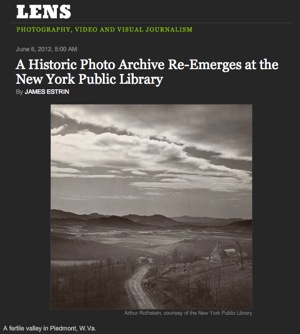 Over at The New York Times' Lens blog, James Estrin has the story behind a trove of Farm Securities Administration images Roy Stryker sent to the New York Public Library.
Why? It turns out Stryker was as paranoid as I am:
"I think he had to hedge his bets," said Beverly Brannan, a curator at the Library of Congress and the author or editor of several books on the Farm Security Administration. "It makes sense that he would send them to Ramona Javitz, so there would at least be a body of them accessible in New York City until he got assurance that they would be kept together in Washington, D.C. He was nervous, he was anxious, and I think that's how there got to be two collections."
There are about a dozen and a half images on the Lens blog, none of which I'd seen before. According to the article, there are about 1,000 images in New York which are not in the Library of Congress collection.