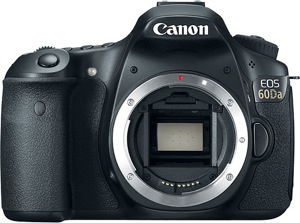 Canon has announced a new version of one of its prosumer models, the EOS 60Da – a model specifically designed for astrophotography.
From the Canon web site:
Increased IR sensitivity for astrophotography allowing crisp, clear images of reddish, diffuse nebulae.

To capture the full range of colors given off by diffuse nebulae in the sky, the EOS 60Da features a specially tailored infrared blocking filter that allows the light normally blocked by a typical DSLR's filter to be captured by the camera's sensor. This means that the reddish hydrogen-alpha (Hα) light (656nm) gasses unseen by a normal DSLR are captured brightly and clearly on the EOS 60Da. With its modified infrared blocking filter, the EOS 60Da captures approximately 3x the hydrogen-alpha (Hα) rays than the EOS 60D, resulting in astrophotography that is sharper, clearer and more accurate in the depiction of naturally occurring reddish hues of diffuse nebulae.