Sara Guevara, a 26-year-old staff photographer at the Gainesville Times, has cancer.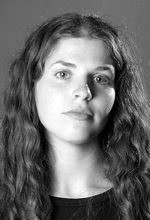 I'm sure there are other photojournalists out there who are struggling with this, too. But Sara … Sara is one of mine.
In the last two weeks I have lost two dear friends and mentors to the big-C. So, Sara? Listen up – you're kicking this thing in the ass.
Pardon my language.
Want to help? Set up a portrait session by emailing her at PortraitsForSara at gmail dot com. You can follow her on Facebook, too.