New Cameras of Note at CES
I never really thought about the Consumer Electronics Show as being a big camera event, but there have been two announcements so far that have me … intrigued.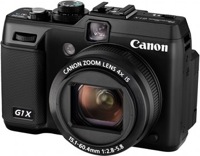 First, Canon has introduced a G1 X – a large sensor compact zoom camera. At $800, it'll sit at the top of the Canon point and shoot line and features a 14 megapixel chip that measures 18.7 mm by 14 mm, pretty close to the APS-C chips used in other Canon DSLRs.
The zoom on the G1 X covers 15.1-60.2 mm with a maximum aperture of f/2.8 at the wide end, stopping down to f/5.8 as you zoom through the range. That, to me, seems like a bit of a handicap – why not hold it to f/4, at least, at the long end? Sure, the bigger chip makes noise less of an issue, but still …
The G12 remains in the lineup.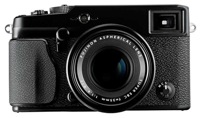 Second, Fujifilm has announced the X-Pro1, a mirrorless interchangeable lens camera similar to the micro four thirds cameras from Panasonic and Olympus. They're releasing three lenses with it next month – an 18 mm f/2, 35 mm f/1.4 and 60 mm f/2.4. (Increase the focal lengths by about 30% to get the 35 mm equivalents.)
Pricing looks to be around $1700 for the camera, $650 for the lenses.
Of the two, the Fujifilm interests me more, but I'm disappointed no one else is building into the micro four-thirds format. It's pretty close, why not build within a standard?
May be time to auction a child off …