Funding for Women Media Entrepreneurs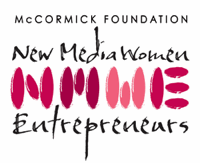 J-Lab is awarding grants to women with an entrepreneurial idea to the tune of $12,000. Got a brilliant new media idea? Check out the guidelines and apply by Jan. 27, 2012.
From the release:
Washington, D.C. – J-Lab: The Institute for Interactive Journalism at American University has been awarded $250,000 from the McCormick Foundation to fund eight innovative women-led news startups over the next two years.

Under the grant, eight winners (four in 2012 and four in 2013) will each be given an initial $12,000 to launch their ideas. The winners will receive an additional $2,000 in the second year if they match it with $2,000 from other sources.

The deadline for 2012 proposals is Jan. 27. See the proposal guidelines and apply here: http://www.newmediawomen.org/site/proposal_guidelines/

The McCormick New Media Women Entrepreneurs initiative is part of a unique effort to address issues of opportunity and innovation, recruitment and retention for women in journalism. To date, 14 projects have been funded since the program started in 2008.