Get your Entries In Now – It's Time for CPOY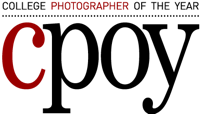 The Call for Entries in the 66th College Photographer of the Year competition is out now. Get your stuff together and get it entered by Wednesday, Sept. 29, 2011. No prints or slides anymore, everything is done online.
Judging will be done in early November at the University of Missouri and you'll be able to watch some of the judging online, which is pretty cool.