Mount the Ridiculous on Your Magical iPhone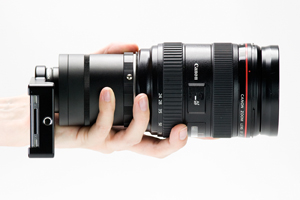 Since everyone (and my brother) has been talking about this, I'd better mention it, too … Photojojo is now marketing an adaptor that will let you mount your Canon EOS or Nikon lenses on your iPhone. There's even one if you're still rocking you 3G or 3Gs phone.
No, really – strap your $14,000 Canon EF 800 f/5.6L USM lens onto the device that sits in your pocket all day long.
What could POSSIBLY go wrong with this plan?
Hey, some of these things make sense. I will fully admit that I have a manual focus Olympus 50 mm f/1.4 lens and an adapter to put it on my (until next month) state-of-the-art Olympus E-P2 – but that makes sense. There isn't a 50/1.4 in the micro four-thirds mount and the optical quality of the lens is equal to the resolving power of the camera.
But slapping your L or ED series glass on a camera phone? Really? It's taking the Instagram/Hipstamatic idea to an other-worldly realm of ridiculousness.
So, yeah … that's my opinion.