The deaths of Tim Hetherington and Chris Hondros last week have a lot of people revisiting the idea of war photography. Michael Johnston at The Online Photographer pointed back to a photo gallery from a year ago by the Denver Post's Captured blog. The collection of images looks at the war in Vietnam on the 35th anniversary of the fall of Saigon – and it is a harrowing set of images.
Some of these images you will recognize, but the collection – 141 images deep – is an incredible visual portrayal or what happened there. From the fields to the bases to the politics, it's in there.
A few things to note: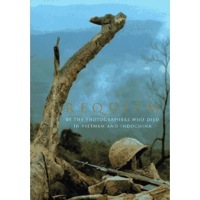 Look at the bylines. There are a lot of images here by Horst Faas who is well known within the photojournalism industry for his work there and with the Associated Press afterwards, but his name is not as widely known as some others. Faas later went on to create a book, Requiem, that looks at the work by the photojournalists who were killed during the war. Well worth studying.
For the photographers, look at image 19 – photojournalism is messy and that images should explain why you need to buy good gear, gear designed for the work we do.
Image 38 is one I've never seen before, but I find it so artful I can't stop looking at it.
Image 96 is another frame I've never seen, and of something I've never seen done before, either. It has little to do with the war but is a great documentary image that talks about the logistics of war. All that effort to save a helicopter, and then at image 139 the same type of aircraft is shoved into the sea to save people.