Sep 18, '18 9:39 AM
There's a tie between first responders and journalists – they're the most likely to head towards trouble spots in communities. To be there, to bear witness, to document and explain so others can be informed or prepared, that's what journalists do.
When storms like Hurricane Florence hit, the best and worst of journalists comes out. The split between the visual and the textual in this News & Observer story by Booke Cain is … stunning.
Cain writes about the efforts of local journalists to keep their communities informed while the image is of a television news crew wandering out into the surf or, optimistically, being surprised by a wave.
Yes, journalists need to be there. No, they should never put themselves or others in danger.
Aug 30, '18 8:41 AM
After stopping to investigate police activity, Susan Greene was told to stop recording because it would be a HIPAA violation. When she refused, she was handcuffed and put in the back seat of a police car and then released.
Some things to unpack here … Greene was in a public place as were the police so there is no expectation of privacy there. The Health Insurance Portability and Accountability Act only applies to medical professionals. And by detaining and then releasing her, they prevented her from doing her job. Even with no charges being filed, this was effectively a case of prior restraint by a government official.
Aug 30, '18 8:27 AM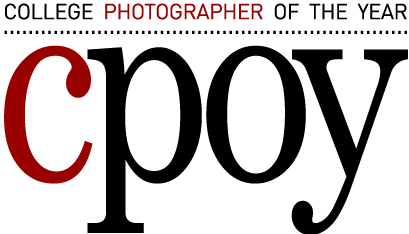 If you're a college student, it's time to get your portfolio together – the entry deadline for the 73rd College Photographer of the Year competition is September 23.
There is no entry fee for this – why wouldn't you enter?
Aug 5, '18 8:34 AM
Well now I want to go to the Yale Center for British Art to see an exhibition …
That BBC video has me thinking thoughts too deep for a pre-coffee Sunday morning, about how to change the way I teach photojournalism and, perhaps, who I teach it to. My classes are not about photography, they are about community, understanding, compassion and helping others build knowledge. That same approach could work in a larger class aimed at other disciplines – using the tool of photography to help better understand science, archeology, history, economics.
It's truly a small shift in perspective.
I should go make some coffee …
Aug 1, '18 7:47 AM
The visual coverage of President Franklin D. Roosevelt has fascinated me for years. Stricken with polio, he was mostly unable to walk without either physical or mechanical assistance, yet the journalists of the time almost never recorded that fact.
It's perhaps one of the greatest ethical discussions on how we cover those in power – what matters, what doesn't and what's the effect of that coverage.
Polio, as a physical ailment, had no impact on his intellectual abilities and, therefore, no impact on his ability to do the work required of being president. But how would the general public have responded? Would they have been able to understand that the damage to his legs had no impact on his ability to lead?
The decision not to film or photograph was, I think, an ethical choice. Journalists collect massive amounts of information, assess it, analyze it, vet it, contextualize it and then publish it. Part of that assessment is understanding what the reaction to it will be, that understanding of your audience is a critical part of the process.
This comes up as nearly 90 minutes of unseen silent films of President Roosevelt are about to be released. Michael Ruane of the Washington Post touches on the issue in the video there, worth a watch.