Dec 2, '15 11:43 AM
I have a small list of photojournalists who never disappoint me, storytellers who always make me stop and stare, ponder what they're showing me, force me to rearrange the neurons in my brain. Michael S. Williamson of the Washington Post is on that list. For years I've come back to his work, to his way of seeing, to understand my world and, maybe, dip into his pool of vision.
Jim Colton has a stellar interview up with Williamson at ZPhotoJournal – well worth spending time on. It's a long, deep read, but the advice it builds to at the end is spectacular:
I would tell young people "Don't be afraid." And I don't want to hear anybody under 40 talking about their "STYLE." Your style just comes as a result of what you love and what loves you. If you are thinking about style, I will take a bb gun and pop you in the shin…I really will. Because then you are trapped by some "LOOK" some "WAY" of the way YOU see it.

And you know something, when you're 22, I don't really care about the way you see it. I want you to cover the event…so I know what happened. Of course, at some point, you mix the two, you can have your vision…you can have a take on life…just don't forget who you are working for.
Yeah, a lot of his social media images are filtered, but the core vision in them … I hope to see something so well some day.
Nov 11, '15 1:59 PM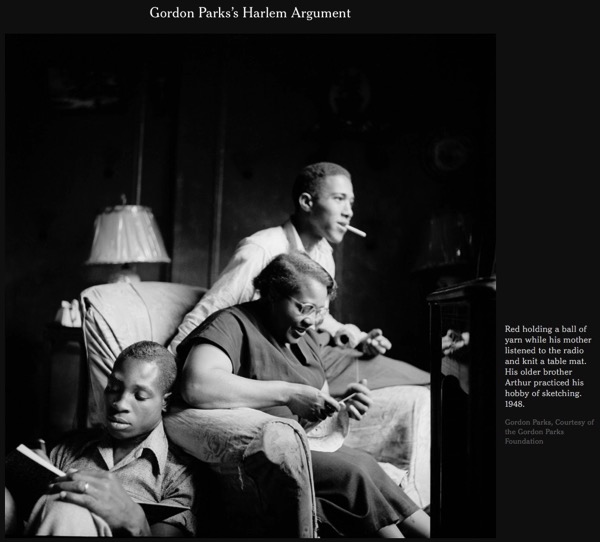 Given the news out of the University of Missouri this week – which is overwhelming in its complexity and very difficult to thread an education lesson through in a short time – the timing of Maurice Berger's story about a new Gordon Parks exhibit in New York on The New York Times' Lens blog is stunningly relevant.
The exhibit details not just the published work from Parks' first assignment for Life magazine, but also the entire take, notes and conversations about the images – what to include and, more importantly, what to exclude. It sounds like it is a brutally honest look at the process of how a picture story would be crafted to match a pre-determined narrative.
Does that sound familiar this week?
This graf is hauntingly authentic right now:
By demonstrating the fullness and complexity of its subjects' existence, the photo essay could have helped the magazine's white readers to make connections to their own lives, an empathetic response that Mr. Parks believed was vital to challenging stereotypes and misconceptions about people they saw as fundamentally different from themselves.
I have been rolling ideas through my head for nearly two days now regarding the Missouri incidents. I am angry, frustrated, concerned, baffled, worried and deeply fearful that this event is a turning point (one we may not recognize for a very long time) that signals a seismic shakeup of the relevance of journalism. If a group that was fighting to not be thought of as other chooses to label journalists as the new other then maybe our relevance is over. Technology is somewhat to blame here, but it's much more about an attitudinal shift, I think.
Much more on that in future posts, but for now, go study Parks' work.
Nov 11, '15 9:49 AM
Congratulations to University of Georgia's Henry W. Grady College of Journalism and Mass Communication Visual Journalism student Taylor Carpenter for co-winning the 2015 Larry Peterson Memorial Award for Investigative Journalism as part of the Georgia News Lab initiative.
The full release:
(SAVANNAH, GEORGIA) – The Society of Professional Journalists – Georgia and the Savannah Morning News will celebrate its first winners of the 2015 Larry Peterson Memorial Award for Investigative Journalism on Saturday, Nov. 14, at the Larry Peterson Award Workshop and Luncheon at the Savannah Morning News auditorium in Savannah, Georgia.

Savannah Morning News investigative journalist and environmental reporter Mary Landers won the award for her three-part investigative series on the proposed Palmetto Pipeline published in the spring 2015. Landers has been with the newspaper for 18 years.

Five members of the 2015 Georgia News Lab won the student category for their investigative work published in the Atlanta Journal-Constitution entitled, "Expense allowances for commissioner come with no strings attached," in the paper's June 27, 2015 edition. The article exposed the lack of accountability and oversight over expense allowances granted to county commissioners in three Atlanta's largest counties. The winners include:

Taylor Carpenter, a senior at the University of Georgia, is majoring in journalism with dual emphasis in visual journalism and magazine writing. Carpenter has interned for the Bryan County News, Richmond Hill, Georgia.

Stephen Fowler, a communications major from Emory University, has held various journalism positions including the current executive digital editor position for the Emory Wheel. Fowler is also the communications director for Health Connect South since April 2015.

Jane Hammond is a 2015 graduate of Mercer University's Center for Collaborative Journalism, Macon, Georgia, and after graduation joined the Daily Press, Newport News, Virginia, as the education reporter. Hammond was an investigative intern for the Atlanta Journal-Constitution.
Ciara Frisbie, a senior broadcast journalism at Georgia State University, is news director for GSTV and continues as an investigative intern for WSB-TV Atlanta. Frisbie was also a student representative board member of the Society of Professional Journalist – Georgia in 2014.

Jared Loggins was the managing editor of the Maroon Tiger, Morehouse College's student newspaper and was an intern with the Atlanta Journal-Constitution. Loggins is now a graduate student studying political science at the University of California, Los Angeles.

This inaugural award is named after Savannah Morning News investigative journalist and political reporter Larry Peterson who died in 2014 from cancer. An endowment from the Peterson family subsidizes these annual awards for excellence in investigative journalism for one professional journalist and one student journalist.

Know as a "dogged seeker of truth," Larry Peterson spent 15 years at the Savannah Morning News and used his investigative skills and knowledge of the local political system to clearly write and explain the nature of the topics he covered for his readers.

The Society of Professional Journalists – Georgia and the Savannah Morning News launched the Larry Peterson Memorial Award for Investigative Journalism in 2015 to recognize exceptional investigative journalism from professional and student journalists in Alabama, Florida, Georgia and South Carolina.

Founded in 1909 as Sigma Delta Chi, SPJ promotes the free flow of information vital to a well-informed citizenry; works to inspire and educate the next generation of journalists; and protects First Amendment guarantees of freedom of speech and press.
Nov 5, '15 8:42 PM
Peter Turnley has spent decades moving us from love to sorrow, friendship to famine, hope to hate in his images. How he does it, I have no idea. But if you're not moved by his work, you may just be dead:
Now I may have to go buy another book … just when I promised myself I wouldn't buy any more until I got caught up on reading all the others piling up on the desk.