Jan 6, '18 7:23 AM
A wonderful piece by a gentleman whose work I admire and whose character I deeply respect – Billy Howard writes about making a group photo at a summer camp and becoming part of the camp's legacy.
Too often we drop into people's lives, quickly assess what makes them who they are and then dash off. If the photo succeeds, if it wins awards, maybe we get to stand on a platform in a darkened room before our peers and share our experience of how we made the image. But how often do we consider what it was like to have been on the other side of the image? What did that experience mean?
Mr. Howard knows for those he photographed last summer wrote a song about it.
Dec 6, '17 9:36 AM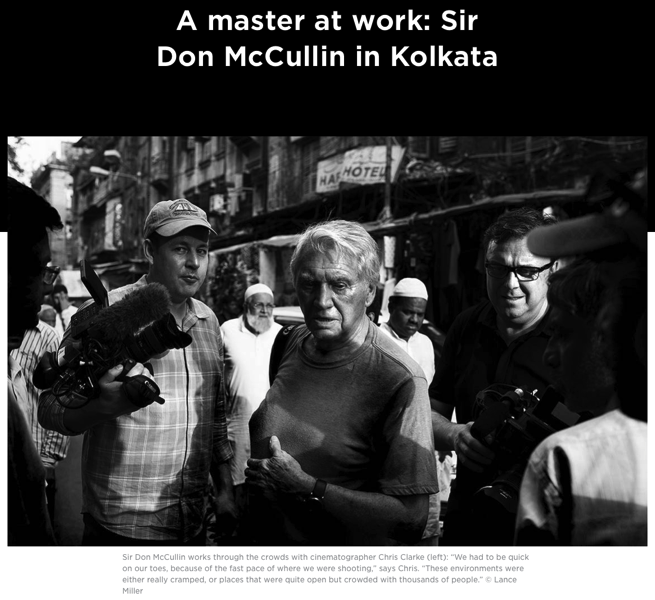 Yes, this is a PR piece from Canon Europe. Yes, it's designed to get you interested in spending many, many dollars on Canon gear.
But it's Don McCullin talking about the way he makes images while he makes images in Kolkata.
Nov 18, '17 7:31 AM
The New York Times' Todd Heisler writes about covering tragic events like the church shooting in Texas.
Because of this, it is important to make images that go beyond grief and crime scenes. Step back. Give a sense of place. Show not just what a scene looks like but, more important, what it feels like.
That last part – about making images that show what stories feel like … that's the goal!, that's always the goal. My friend Billy Weeks puts it this way: "Photos of something vs. photos about something."
You can spend your career making photographs of things and, if you're technically competent and reasonably personable, you can have a decent career I suspect. I'll admit my early years fell into that category – I was a good photographer, always made a usable image and was easy to work with. I look back on some of those stories from the start of my career and I'm not always sure anyone would feel anything. They'd know what happened, but they might not care deeply about it. Lots of record shots, a recording of what was before me.
That's where my students start because it's where we all start. Master the mechanics, figure out the aesthetics, put it into practice in the field. Figure out what the story is, figure out who the story matters to, find the character that helps us understand and then make an image that will make an emotional connection, make someone who wasn't there, who doesn't know, feel something.
That's the real challenge in photojournalism. It isn't about getting sharp photos, it isn't about getting proper exposures. It isn't about having the right lens or the newer sensor or the better job at the bigger publication. Every time we raise a camera to our eye, regardless of who is before it or who will look at it, it is our responsibility to make an image that lets a viewer know what that moment feels like.
That's when the power of photojournalism becomes ours,
Jun 22, '17 10:26 AM
I will admit, there is this internal conflict when it comes to one of my photographic heroes, Henry Cartier-Bresson. The work, the elegance of it, the preservation of a moment in time … it resonates with me deeply.
But then there are pieces I read, interviews and stories, and I'm left wondering whether he was a charlatan of sorts. He was, at times, so dismissive of the craft, of the effort.
Lines like this, excerpted from a 1973 interview with Sheila Turner-Seed:
I see different things, I presume. But not more, not less. The best pictures in The Decisive Moment were taken right away, after two weeks. [ . . . ] That's why teaching and learning don't make sense. You must live and look. All these photography schools are a gimmick. What are they teaching? Could you teach me how to walk?
So, I'll put aside my defensiveness because of my occupation and say I agree there's a certain level of innate vision the best have. But that vision needs to be developed, it needs to be explored and prodded and poked at, it needs to be put in context and critiqued. A photograph is not an isolated thing, it is an arc that connects moment and the witness and the viewer, bringing them back to the moment.
Maybe it's more of a circle. Hmmm … maybe there's something in there to teach …
The precision of his work and the way he talks about it, that has always resonated with me:
The difference between a good picture and a mediocre picture is a question of millimeters, a tiny difference. But it's essential. I don't think there's so much difference between photographers, but it's that tiny difference that counts, maybe.
And the way he talks about watching a great photographer work, the elegance with which they move, I get that, too. There's a fluidity we should all be striving for, the insert ourselves into the ebb-and-flow of life, to be swept along but at just the right distance to be able to see not just this moment, but how it connects to all the others.
As I said, I have some inner conflict.
Jun 17, '17 8:26 AM
If you've spent more than four minutes with me, you know one of my passions lies deep in the automotive realm. Old cars, new cars, broken cars and the old, new and broken people that go with them – I love being a part of those stories.
So it should come as no surprise that I tend to look at a lot of car photos and read a lot about the people who also love cars. Amy Shore has been taking the automobile photo world by storm of late and she's put together a very long, very detailed post on what you need to know to get into the business. Really, even if you never want to photograph a car, the processes she talks about apply to you, too.
You can have a crap photographer with the best camera on the market and they'll create high-quality crap photos. Or you can have a fabulous photographer only shooting with their mobile phone and get more Instagram followers than you or I will ever have because their 'eye' for an image is amazing.
It is well worth a good chunk of your weekend.
She was also profiled on the Mercedes-Benz site, which concludes with a short video of her.
Feb 18, '17 12:40 PM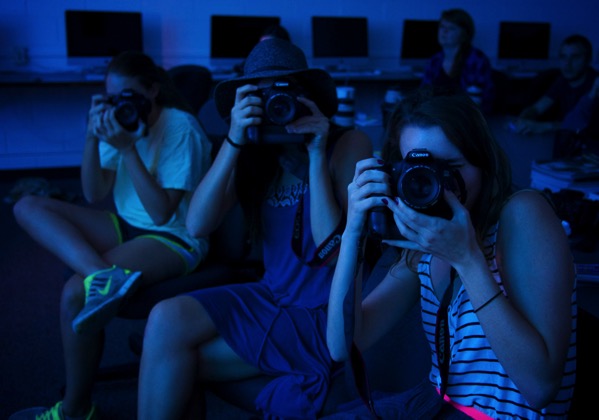 Two interviews that James Estrin did this week at The New York Times Lens blog have had me pondering the future of photojournalism.
Up first was an interview with Donald Winslow, the editor emeritus of the National Press Photographers Association's News Photographer magazine and a long-time supporter of photojournalism.
A few days later, Leslye Davis, a staffer at the Times, stopped in to talk with Estrin about her views and they were almost the polar opposite.
I've known Mr. Winslow for a long time and have had many wonderful discussions with him – his encyclopedic knowledge of our craft's history and the characters within it is unmatched, his passion and commitment unquestionable.
But Leslye Davis is my new hero:
Before pens and paper were accessible people were carving their ideas into stone tablets. I bet when pen and paper came along the writers were skulking around grumpy like, "now everybody thinks they're a writer."
I was part of that golden age, at least the very end of it. It was thrilling and important, helping my communities better understand themselves.
It was also staggeringly limiting – sometimes you needed to hear someone's voice to understand, sometimes you needed to see how someone moved within their realm to understand. We can do that now.
For many years, we took the easy route, covering the obvious events for our daily deadlines. Every now and then, we'd get to do the deep dive story and really be a full fledged Storyteller.
Today, social media feeds fill the need of the instantaneous this-is-happening void. We, who are devoted to the craft, can now focus on the Why, not just the What, the How that explains the Where and the When. We get to deal with the Who as a complete portrait, not just a two-dimensional series of inked dots.
The golden age of photojournalism, limited to and by those who had access to the gold, has passed. In its place we get to build an organic, comprehensive and democratically necessary era of visual storytelling.
And that phrasing is specific – we need to Build this. There are many challenges, but isn't that what photojournalist deal with everyday?